Emirates Stadium, London
Tuesday, December 27
10:00 a.m. EDT, 3:00 p.m. GMT
Match Officials

Referee: Stuart Attwell
Assistants: Peter Kirkup and Ceri Richards
4th Official: Lee Probert

This Match, Last Year: Arsenal 2 - 0 Wolves
All-Time in All Competitions: 56 Arsenal wins, 28 Wolves wins, 25 draws
Arsenal's League Form: W-D-W-W-L-W
Wolves' League Form: L-L-W-L-L-D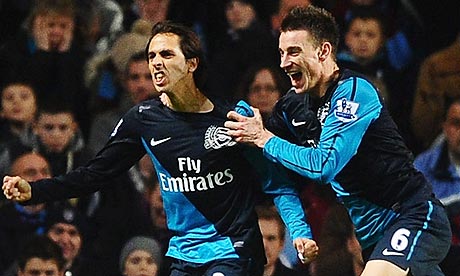 Yossi Benayoun headed home Arsenal's winner on
Wednesday, the second night of Hanukkah.
Photo: Guardian.
They always say that winning games ugly is the mark of a championship team. Now, let's not get carried away, I'm not saying this team is going to challenge for the title this season; they're probably not. The point is, to challenge for a Champions League spot, Arsenal needs to keep racking up three points against the teams they should be beating. In the end, no matter how you win them, it's still three points. It's important to win ugly sometimes, and that's exactly what happened in Birmingham on Wednesday.

Speaking of teams Arsenal should be picking up three points against, Wolverhampton Wanderers visit the Emirates tomorrow. Wolves sit precariously above the drop zone, one point clear of Wigan. Arsenal plays three times in seven days, with this being the first of them, so one wonders where and when there will be squad rotation. The back four is still in shambles due to injuries, so it does not sound like there's room to rest anybody there. Ultimately, we'll see what Wenger decides to do, but with QPR and Fulham up ahead in quick succession, this is no time to get too comfortable.

Last year during the festive period, Arsenal played three times in six days and walked away with seven points. It should have been nine, but a rotated squad gave away a late equalizer in Wigan (thanks, Squillaci!) Would seven be satisfying this year? With points so precious in the battle for the top four, I wouldn't think so.

Anyway, due to the holiday festivities, this is going to be a bit of a short preview. Apologies.
Arsenal Squad News
Out:
Djourou (groin), Fabianski (knee), Sagna (leg), Gibbs (groin), Jenkinson (back), Diaby (hamstring), Wilshere (ankle), Santos (ankle)
There's some good news regarding those who are out, and I suppose, bad news too. The good news is that players like Bacary Sagna and Jack Wilshere are back in light training. The bad news it that Kieran Gibbs has had another set back and will miss another month. Johan Djourou is still about two weeks away, at best.
So, the back four is still a bit of a mess. You can bet that Tom Vermaelen, Laurent Koscielny, and Per Mertesacker will all start and you can be sure that Mertesacker will be in the middle. The question is, who plays as fullbacks... do you put Koscielny on the right and start Ignasi Miquel on the left, or do you start Vermaelen on the left and start Francis Coquelin again on the right? I'm going to blindly put my money on the former option.
The Guardian's
squad sheet article
lists the former option as well, but also, interestingly, starts Yossi Benayoun over Aaron Ramsey. Food for thought, as Benayoun deserves a start, and Ramsey was a bit poor at Aston Villa. Benayoun should get a start at some point soon, due to the necessary squad rotation during fixture congestion. Tomas Rosicky will probably get a start soon, too. It's just a question of when and that's a question that only Wenger can answer.
Predicted XI:
Szczesny, Koscielny, Vermaelen, Mertesacker, Miquel, Song, Ramsey, Arteta, Gervinho, Walcott, van Persie.
Wolves Squad News
Our or Doubtful: Edwards (groin), Craddock (hamstring), Foley (match fitness)

There's a chance that Welsh international Dave Edwards will be traveling with the side after going through training on Saturday. He's been out for three weeks with a groin strain he picked up against Manchester United. It's my understanding that Joey Craddock and Kevin Foley are both still unavailable with hamstring and ankle injuries, respectively. Jamie O'Hara has a groin injury, but the Guardian suspects he's available.
Current Form
Arsenal's win at Aston Villa was their third win in their last seven matches across all competitions, though there's only so much you can read into the three losses in that time period, like the valiant display at Eastlands, or the losses by the second string at Olympiacos and in the Carling Cup. Arsenal's form over their last six league fixtures (which includes one loss and a draw) is equivalent to that of Manchester City's and Tottenham Hotspur's. Only Manchester United (who have five wins and a draw over their last six) have better form in the league. Arsenal's win over Everton in their last home game snapped a short two match streak without a win at the Emirates across all competitions (they had drawn Fulham, then lost to City in the Carling Cup.)

Wolves this season have not beaten anybody above 13th place (which was their home win against Fulham.) They have a record of four wins, one loss, and one draw against the seven other teams in the bottom eight with them. Against the top 12, they have two draws and nine losses. Wolves opened the season on the road with a 2-1 win at Blackburn, but since then, have not won away from Molineux in the league. Their only other point away from home came in a 0-0 draw at Aston Villa, also in August.
Match Facts
Wolves have never beaten Arsenal in the Premier League era; they have lost all six meetings thus far. Wolves have not scored a goal at Arsenal in the three matches played at Highbury/Emirates Stadium in the Premier League. Arsenal have come away with 3-0, 1-0, and 2-0 victories. Last year's 2-0 victory came from a Robin van Persie brace, just days before Arsenal's best win of the season, against Barcelona in the Champions League. In last year's reverse fixture at Molineux, the brace came from Marouane Chamakh in another 2-0 win. Wolves' last win at Arsenal came at Highbury in 1979, by a 3-2 scoreline. In the meeting the following season, in 1980, Wolves earned a 1-1 draw. Arsenal have won the last five league meetings at home with Wolves since then. All-time, Wolves have eight wins at Arsenal in 48 league matches.
The Referee
The referee is Warwickshire-based Stuart Attwell, working the fourth Arsenal match of his career and second of this season. In September, Attwell took charge of Arsenal's 1-0 win over Swansea, the first match the Gunners played after that which shall not be named. I don't remember much of the specifics, but Sean, our recap writer, stated that he had a "shocker" and that he's "caught a case of Phil Dowd disease," so I think everybody should panic. Last year, Attwell took charge of Arsenal's 4-1 home win over Bolton (I do remember him being a mess that day, too) and the 2-2 draw at West Brom (I remember Arsenal and Manuel Almunia being a mess that day.)

Attwell has worked only one Wolves match this season, the 3-1 loss at Manchester City. A red card to Vincent Kompany made that match interesting, as Stephen Hunt's penalty brought Wolves within 2-1 with 15 minutes to play, but City closed the match off at the end.
Around the League
Arsenal's movement of this match from Monday to Tuesday leaves seven matches to be played on Boxing Day, with three more scheduled for tomorrow.

The early match sees Chelsea host Fulham at Stamford Bridge, which is going ahead in spite of the industrial action in London. Five games kick-off in the usual 10:00 a.m. Eastern time slot, as Manchester United hosts Wigan at Old Trafford, Liverpool hosts Steve Kean Out Rovers at Anfield, Manchester City travels to the Hawthorns to face West Brom, Bolton hosts Newcastle, and Sunderland hosts Everton. The nightcap is indeed just that; it's at 7:45 p.m. in England, as Stoke hosts Aston Villa at the Britannia.

On Tuesday, after Arsenal v. Wolves at 10, Swansea hosts QPR at noon, and Norwich hosts Spurs at 2:30.