Emirates Stadium, London
Saturday, December 10
10:00 a.m. EST, 3:00 p.m. GMT
Match Officials

Referee: Howard Webb
Assistants: Darren Cann and Andy Garratt
4th Official: Andre Marriner

This Match, Last Year: Arsenal 2 - 1 Everton
All-Time in All Competitions: 96 Arsenal wins, 58 Everton wins, 41 draws
Arsenal's League Form: W-W-W-W-D-W
Everton's League Form: W-L-L-W-W-L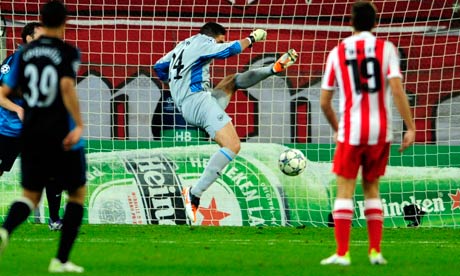 What!?! What is this? How is this a goalkeeper? Why?
Vito, this is a joke, right? Good one! Photo: Guardian.
I had a whole three paragraphs written here on Tuesday night after my frustration with Arsenal's display in Greece on Matchday 6. Yes, the game didn't mean anything for Arsenal, but I was highly disappointed in the showing the players had. It's not like that was a youth team on the pitch. Some starters included Lukasz Fabianski, Johan Djourou, Thomas Vermaelen, Andre Santos, Sebastien Squillaci, Andrei Arshavin, Yossi Benayoun, and Marouane Chamakh. The display was less than what you would hope from players who are (knock on wood) an injury or two away from being starters.
Or, in the case of Vermaelen and Santos, currently starters. Which brings me to the question of why the hell were they playing in the first place? And, of course, Santos is now out for three weeks with an ankle injury.
United and City should be careful,
as much of the surface of Europa is
solid ice. Photo: NASA.

But the disappointment faded Wednesday, when BOTH Manchester City crashed out of the Champions League and into the Europa League. I never thought United would crash out with City, but you've got to hand it to Basel for taking four out of six points from them. And, to those who say that this hurts England in the long run, remember: the UEFA coefficient uses five years of European competition to determine rankings and England is pretty far ahead of fourth place Italy to worry about losing a Champions League spot, at least for next year.
Anyway, it's back to league play now and a return to the pitch for Arsenal's regulars (save the injured Santos.) I'll get into the injuries more in the squad news section, but to put it generously, the back line is a little light right now. It's of critical importance for Arsenal to put this result behind them and get back to displays like the 4-0 dismantling of Wigan last week. Olympiacos was only one match and it didn't mean anything, but it has left quite a bad taste in my mouth. I'd like for the taste to be a lot better for
our holiday party, which starts immediately after this match
.
Arsenal Squad News
You know what? I am still mad they played Santos.
This was just stupid. Photo: BBC.
Out:
Santos (ankle), Diaby (hamstring), Gibbs (hernia), Sagna (broken leg), Jenkinson (back), Wilshere (ankle)
Doubts:
Fabianski (knee)
Well, with Andre Santos expected to miss three weeks after picking up an ankle injury in a game he probably should not have been playing in the first place, Arsenal are now left with exactly zero fit first-team fullbacks, on either side.What fun!
The loss of Santos means that a natural center back will have to start on both the right (which was already the case) and the left. The alternatives to Santos are basically shifting over Thomas Vermaelen or starting Ignasi Miquel (who, himself, is a center back too.) I suspect it will be the former, and Arsenal will start with a back four of Johan Djourou, Per Mertesacker, Laurent Koscielny, and Vermaelen.
I have not yet heard anything regarding the gash Lukasz Fabianski picked up on his knee on Tuesday; this means I don't know whether he, Vito Mannone, Manuel Almunia, or Dropsy von No-Hands will be on the bench behind Wojciech Szczesny.
The front six basically still picks itself.
Predicted XI:
Szczesny, Djourou, Koscielny, Mertesacker, Vermaelen, Song, Ramsey, Arteta, Gervinho, Walcott, van Persie.
Everton Squad News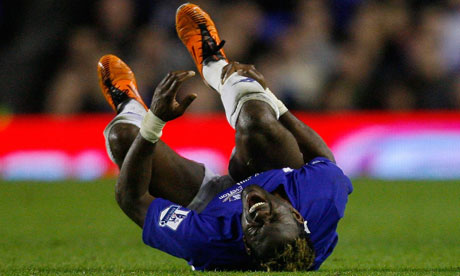 Louis Saha had a season ending injury last March, and is
now injured again. This has now been two photos of
injured players in this preview. There are no more,
I promise. Photo: Guardian.
Out:
Anichebe (groin), Drenthe (foot)
Doubts:
Saha (thigh)
Everton picked up bad news within the 24 hours before their meeting with Stoke City last week when Louis Saha, who scored at the Emirates last year, pulled out of the line-up with a thigh injury. Saha has been plagued by injury his entire career, this is just the latest chapter. I have not heard any confirmation on how long this injury will keep him out (the Everton site actually says "unknown,") so I've listed him as a doubt.
Meanwhile, Everton have two other long term injuries with which to deal. Victor Anichebe will be out for about another week or a fortnight with a groin injury and on-loan-from-Real Madrid Royston Drenthe is out an indeterminate length with a foot injury.
Current Form
Stoke... well, Stoke'd their way to a win over Everton
last weekend, scoring their lone goal from "a lot going
on in the box." Photo: BBC/Reuters.
Arsenal's poor form at the start of the season seems like a distant memory now. Since the international break that followed the loss to Spurs, Arsenal have won nine matches, across all competitions. They've drawn two and lost two (both with their second team.) The losses and the draws (all of which were at home except for the Olympiacos loss this week) really interrupt how good of a run of form this has been for the Gunners. They have won six of their last seven league matches, with only a draw in between. Winning those two home matches out of that break (against Sunderland and Stoke) were great for confidence, but it was really the win at Stamford Bridge that proved to these players that they could win games again. The only real hiccup was the 1-1 draw with Fulham, which was the product of a team that was still drained from putting it all on the line to clinch the Champions League group the Wednesday before. And I'd much rather that scenario than playing on Thursdays in the new year, like some teams we know.
Everton are mid-table at the moment, sitting in 10th, level on points with Aston Villa just ahead of them. All of Everton's five wins this season have come against teams lower than them in the table. They've drawn Villa, who they're technically even with, and have lost all six matches against teams with a better record. They've also lost once to a team below them, QPR. On the whole, Everton have 16 points, and are ten points back of Arsenal in fifth. Everton does have a game in hand; their season opener at Tottenham was postponed because of the rioting. They then opened their season with that loss to QPR. Since then, they've basically won the games they were supposed to and lost the games you would expect them to drop. Last weekend, however, they fell 1-0 to Stoke City at Goodison Park, a win for Stoke that snapped their string of four straight losses on the road following Europa League games.
Match Facts
Arsenal wore yellow at Goodison Park last year, because
apparently their red clashes with Everton's blue.
Photo: Daily Mail.
Arsenal won both meetings with Everton last season by 2-1 scorelines. The sides met at the Emirates on a midweek in early February. Louis Saha controversially put Everton ahead 1-0 in the 24th minute when he was deemed onside thanks to Lee Mason's interpretation of a gray area in the offside rule. Saha had been "played onside" by Laurent Koscielny's attempt to block a through ball, even though he missed. The controversy is now well and forgotten, as substitute Andrei Arshavin scored seven minutes after coming on to even the game at one, and Koscielny made up for playing Saha onside by scoring the winner in the 75th.
The earlier fixture between the sides last year took place at Goodison Park in November, when Arsenal inexplicably wore yellow, possibly so you could more easily see the Remembrance Day poppies. Arsenal led 1-0 at halftime through a powerful strike from... Bacary Sagna? No, that can't be right. ((checks old recaps)) Oh yeah, that was a thunderous shot! Cesc Fabregas extended the lead in the 48th, and up 2-0, Arsenal took their foot off the accelerator. Then, Tim Cahill pulled one back in the 89th, and the last few minutes got a little nervy. Arsenal held on for the 2-1 win. Howard Webb was also the referee that day.
Arsenal are unbeaten in eight matches against Everton, dating back to a 1-0 loss at Goodison Park in March of 2007. Of those eight matches, Arsenal have won six. Only one of the two draws was at the Emirates; that was a 2-2 draw in January of 2010, when Tomas Rosicky salvaged a point with a late equalizer. Everton's last win in North London was on January 20, 1996, by a 2-1 score. Since then, Arsenal have won 13 (including 10 straight at one point) and drawn two at home against the Toffees. All-time, in league matches at home against Everton, Arsenal have won 60 times and dropped points 30 times, outscoring the Toffees by double in those 90 matches, 182-91.
The Referee
"Look at my shiny whistle! Look a it!"
Photo: This Day in Football History.
The referee is South Yorkshire-based Howard Webb. I can sense that you're about to panic. I can feel it. Don't panic. STOP PANICKING! WHY WON'T YOU STOP PANICKING?!?
Arsenal have seen Webb twice this year, and the first time, they lost 8-2. There is, of course, a feeling that Howard Webb works in pro-Manchester United ways, and certainly, the last two times Webb has worked an Arsenal match involving United, the Gunners have lost. However, if you ignore matches played at Old Trafford, Arsenal are unbeaten in nine with Howard Webb in the middle. That includes a 2-1 win over Sunderland in October at the Emirates. Stop panicking! Webb also worked Arsenal's match at Everton last season, which Arsenal won 2-1.
Webb has taken charge of only one Everton match this season: a 2-0 loss at Manchester City. Five Everton players were shown yellow cards, to one for City. Earlier this week, Howard Webb was in charge of the Group F Champions League match that was not Arsenal's, Marseille's 3-2 come from behind victory in Dortmund.
STOP PANICKING!
Around the League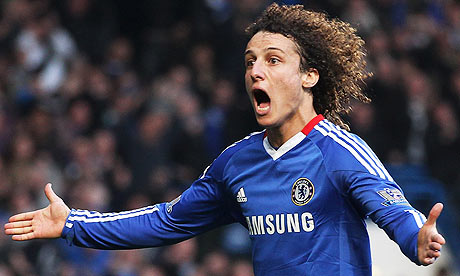 This clown had the winner in Chelsea v. City last year.
Photo: Guardian.
There are no early or late games on Saturday, which seems very ridiculous. There are seven matches to be played at 10:00 a.m. Eastern / 3:00 p.m. in England. Sky Sports is showing rugby (Saracens at Wembley in the Heineken Cup) and Barnsley v. Ipswich in the early time slots. ESPN, who usually airs the late game in England, is showing the Bundesliga... I don't think I know enough about how games get picked for television in England to have a guess at why this is the case this weekend.
In any case, Arsenal v. Everton is one of seven matches Saturday, with two more on Sunday, and a final fixture on Monday. The other six Saturday games see Wolves visit Old Trafford to face the Europa League's Manchester United, Liverpool host QPR at Anfield, Aston Villa travel to the Reebok to face Bolton, Norwich host Newcastle at Carrow Road, Swansea welcome Fulham to Wales, and West Brom host Wigan at the Hawthorns. Sunday's matches see Sunderland host Blackburn at the Stadium of Light, then Stoke City host Tottenham Hotspur at the Britannia (oh God, do I have to root for Stoke?)
The match of the weekend is on Monday night in West London, as Chelsea will host the Europa League's Manchester City at Stamford Bridge. City won at the Bridge two years ago, 4-2, in a match where Chelsea ended on nine men. Chelsea beat City at the Bridge last year, 2-0, after losing at Eastlands earlier in the season. If Chelsea loses and Arsenal wins, the Gunners will finish the weekend in fourth, unless Newcastle beats Norwich by at least four more goals than Arsenal beats Everton.