Carrow Road, Norwich
Saturday, November 19
7:45 a.m. EST, 12:45 p.m. GMT
Match Officials

Referee: Phil Dowd
Assistants: Andy Garratt and David Richardson
4th Official: Michael Oliver

This Match, Last Time: Norwich 1 - 4 Arsenal (August 28, 2004)
All-Time in All Competitions: 22 Arsenal wins, 10 Norwich wins, 17 draws
Arsenal's League Form: W-L-W-W-W-W
Norwich's League Form: W-L-W-D-D-L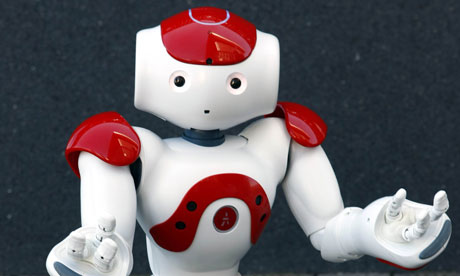 Thomas Vermaelen questions the referees judgment...
What? This is just a robot? No, no, I'm pretty sure it's
Vermaelen... Photo: Guardian.
The last time Arsenal came back from an international break it was the middle of October. Arsenal was coming off a 2-1 loss against Tottenham and were sitting 15th in the table, eight points short of fourth place Newcastle. In this opening section of the Preview by Numbers post, I quoted Alex Song, who said they needed to come back and win the next five matches. My reaction was, of course, "whoa, whoa, whoa, one at a time."
Since then, it was three points against Sunderland, three against Stoke, a huge win at Chelsea, and three points against West Brom. So far, so good, right, Alex?
This is actually a much bigger match than you might think it is. Arsenal was in great form before the international break, for the first time in what felt like ages. It's hard to maintain that form when you've spent two weeks away from club football. So, it's crucial for Arsenal to hit the ground running again. They play seven games in the next three weeks, so getting back into the groove of good form right away is paramount. It's not something Arsenal does very well, though. From a feature on the Arsenal Web site on Wednesday, they stated Arsenal's record in the first game back from an international break dating back to 2004/05. When that game is played away from home, Arsenal wins less than half the time (7 wins, 8 losses, 2 draws.)
Sure, you may say, Norwich is the kind of team that Arsenal should beat. But, given all this team has been through in the past calendar year, how trustworthy are you of Arsenal in games they
should
win. Norwich has been pesky this season. It's November, so if a newly promoted side is still 9th in the table, they've got to be doing something right.
Again, crucial match, this.
Arsenal Squad News
Is this Gibbs or Diaby? Photo: Strihs.
Out:
Jenkinson (back), Gibbs (hernia), Sagna (broken leg), Wilshere (ankle)
Fingers crossed, as of the time I'm writing this, it sounds like most have come back from the international break in one piece. Robin van Persie was even allowed to return early, which is just incredibly good news that I almost didn't believe when I heard it last Friday.
So, that means the bad news (because there's always some bad news, right?) surrounds already existing injuries. Kieran Gibbs underwent surgery for a hernia and will be out until around Christmas time, as Andre Santos will continue to deputize.
Word also broke yesterday that Carl Jenkinson will miss the match with a stress fracture in his back (well, he does have bad posture, but I'm not one to talk on that subject.) He'll miss a few weeks. So, who starts at right back? Do you start Laurent Koscielny there and bring Per Mertesacker back into the line-up or do you keep the in-form Koscielny in the middle and start Johan Djourou on the right? I'd feel more comfortable with the former option, but would not be surprised by the latter taking place.
Marouane Chamakh and Abou Diaby have returned to full training, but will both be short of match fitness for a bit, especially Diaby. Other than that, you probably know the other injuries by heart now. Bacary Sagna's return from his broken leg should be in December, Jack Wilshere's return from his ankle surgery should be in the new year (he's now walking without crutches and apparently ahead of schedule.)
Ryo Miyaichi is also hurt with an ankle injury he picked up in the reserves, just so you know. He'll be out 4-6 weeks, so there'll be no Carling Cup match for him later this month.
Predicted XI:
Szczesny, Koscielny, Vermaelen, Mertesacker, Santos, Song, Ramsey, Arteta, Walcott, Gervinho, van Persie.
Norwich Squad News
James Vaughan is as perma-hurt as some Arsenal players.
Here is he ripping his own teeth out, or something.
Photo: Football 365.
Out:
Vaughan (knee), Whitbread (knee), Ward (knee)
Doubts:
Ayala (knee)
Norwich has three injury concerns with one other player on the way back from the sidelines. James Vaughan, who has always been plagued by injury, suffered a knee injury in late September and is expected to miss "three to four months." American defender Zak Whitbread is out with a hamstring injury he suffered against Chelsea. Elliott Ward is still out with a knee injury he picked up during Norwich's pre-season tour of Germany. Daniel Ayala is close to returning from a nasty knee injury he suffered in the second round of the Carling Cup. This list of injuries leaves Norwich with very few center backs, a problem Arsenal has been all too familiar with in recent years. It's also something Robin van Persie and the rest will love to exploit.
Anthony Pilkington is tied for 12th in the league in scoring with four goals. Grant Holt is third in the league in fouls conceded with 23, two behind Kevin Davies's league leading 25.
Match Facts
Jose Antonio Reyes had the opening goal in Arsenal's
last match at Carrow Road, a 4-1 win.
Photo: Sporting Life.
This is Norwich City's first season in the top flight since they were relegated in 2004/05. Arsenal won both league matches that year by 4-1 scores. The last time this fixture was played, it was August of 2004 (Arsenal was still on their invincibles unbeaten run; this was number 44 of that 49 match streak.) Arsenal took a 3-0 lead by halftime with goals from Jose Antonio Reyes, Thierry Henry, and Robert Pires. Darren Huckerby pulled one back from the penalty spot in the 50th, before Dennis Bergkamp made it 4-1 to the good at the end. Norwich was incensed in that match that Lauren was not sent off for a potential last man foul on Huckerby in the first half, but after discussing with the fourth official, Graham Poll showed a yellow card instead of red. Arsenal's three other Premier League matches at Carrow Road ended in draws.
In the reverse fixture at Highbury in April of 2005, the most recent meeting between these two sides, Arsenal also won 4-1. Thierry Henry had a hat trick with Freddie Ljungberg supplying the other. Again, Darren Huckerby had Norwich's consolation goal. This time, that had been scored with the match at 2-0 and it was scored at the half hour mark, so Arsenal's half-time lead was only 2-1 before Ljungberg's 50th minute strike. Henry completed the hat trick in the 66th. That win brought Arsenal back up to second in the league table at the time, which is where they would finish the season.
Those are the only two matches Arsenal and Norwich have played against each other over the last 16 years or so. Their last cup tie was in the 1993/94 League Cup, where Arsenal won 3-0 in a replay at Carrow Road. In three all-time FA Cup ties (two in the '50s and one in the '70s,) Arsenal have won two and Norwich one, with neither side winning a home tie.
Current Form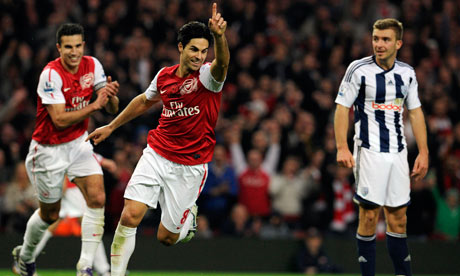 Arsenal's form before the international break was good.
I hope it stays good. That'd be good. Photo: Guardian.
As the match facts section is fairly irrelevant because these two teams haven't played each other in so long, the current form section is also fairly irrelevant because this is the first game back from an international break, and after two weeks away, form and momentum pretty much goes out the window.
Arsenal's form between this international break and the one before that was fantastic. Eight matches, seven wins, and a 0-0 draw in the Champions League. Arsenal have won four straight league games. They didn't do that at all last year. You'd have to go back to a six match streak in February-March of 2010 for the last time they did that. That run ended with a draw at Birmingham, when the Blues scored in injury time because Manuel Almunia did his Almunia thing in goal.
I've spoken a lot about Arsenal's struggles away from home in this section... basically, whenever Arsenal plays away from home. During this eight match unbeaten run, Arsenal won both of their road matches with a late winner in Marseille and... well, I don't think I need to tell you what happened at Stamford Bridge.
As for Norwich, they are 9th in the table and have only lost once at home this year (1-0 to West Brom.) They also haven't played any of the eight teams ahead of them in the table at Carrow Road yet. They have also won twice (Swansea and Sunderland) and drawn twice (Stoke and Blackburn) at home. They've lost to Chelsea and United away from home (both my two goal margins.) They picked up a 1-1 draw at Anfield, but since them, drew Blackburn at home, and lost 3-2 at Aston Villa.
The Referee
"Phil Dowd is a Wanker" is the first thing that comes
up when you do a Google image search for Phil Dowd.
They pretend they sell this on a T-shirt.
The referee is Staffordshire-based Phil Dowd. Okay, now, everybody panic!
Phil Dowd took charge of five Arsenal matches last year. I could live with forgetting a lot of them. Last September, he was in the middle for Sunderland's last gasp equalizer in a 1-1 draw at the Stadium of Light, which saw him show Alex Song red on the hour mark. He did award Arsenal a penalty that day; Tomas Rosicky missed it.
The next time Arsenal saw Dowd, they blew a 2-0 halftime lead at home. To Tottenham. And lost. Then, he took charge of Arsenal's third round FA Cup tie with Leeds and actually handed Arsenal a lifeline, an injury time penalty when trailing. He actually wasn't supposed to be the referee that day (he was listed as the 4th official,) but took over at the last minute. I remember that that happened, but I don't remember why.
In February, something happened in Newcastle. Then, in April, he was at the center of a dreadful 0-0 between Arsenal and Blackburn.
Dowd has not taken charge of a Norwich match since February 20, 2007, as the Canaries lost 2-1 at Preston North End. Dowd's last match at Carrow Road was a 1-0 Norwich win over QPR on December 30, 2006.
Meanwhile, linesman Andy Garratt is the one who incorrectly flagged Andrei Arshavin offside, negating what could have then been a 1-0 Arsenal win. Instead, it remained 0-0, and Arsenal's post-Carling Cup final downward spiral really started. In May, he was on the line when Arsenal hosted Manchester United. Arsenal won that day, but Garratt was standing directly in front of Nemanja Vidic's handball that should have brought about a penalty and didn't flag for it.
Around the League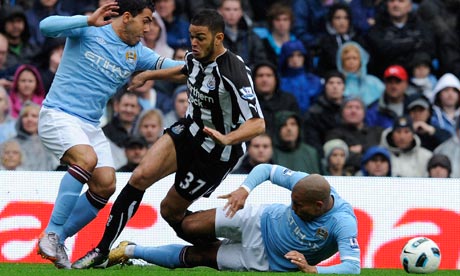 City v. Newcastle last year saw Hatem Ben Arfa get
de Jong'd. Photo: Guardian.
Arsenal play in the early match for the fourth time already this season, out of 12 league matches. Afterward, there are six matches being played at 10:00 a.m. which includes a battle of the unbeatens and two relegation six-pointers. The battle of the unbeatens sees Manchester City hosts Newcastle United. Newcastle have Man U. and Chelsea ahead of them on the fixture list, so one wonders how long they'll stay in third. Meanwhile, Everton hosts Wolves and Goodison Park, Stoke welcomes Joey Barton and QPR to the Britannia (I predict bloodshed,) Sunderland hosts Fulham in the Northeast, West Brom hosts Bolton in a bottom of the table clash at the Hawthorns, and Wigan hosts Blackburn in another bottom of the table clash at the DW. In the late game, Manchester United heads to Wales to face Swansea.
Sunday holds a huge match at Stamford Bridge as Chelsea faces Liverpool. How many goals will Fernando Torres score against his former club? I'll mark him down for an own goal or two.
On Monday, Tottenham hosts Aston Villa at White Hart Lane. I had to look at the table to see how Aston Villa is doing this year. They're apparently 8th. How about that.