2:45 p.m. EST, 7:45 p.m. GMT
RSVP on Facebook
Match Officials from Belgium

Referee: Frank De Bleeckere
Assistants: Peter Hermans, Walter Vromans
4th Official: Sebastien Delferiere
Additional Assistants: Luc Wouters, Alexandre Boucaut

Reverse Fixture: Dortmund 1 - 1 Arsenal (Matchday 1)
All-Time in All Competitions: 1 Arsenal win, 1 Dortmund win, 1 draw
Arsenal's Group Form: D-W-W-D
Dortmund's Group Form: D-L-L-W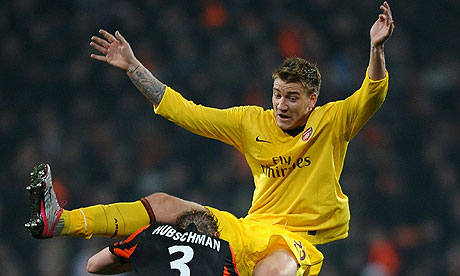 Instead of taking a commanding six point group lead
last year, Arsenal rotated their squad on Matchday 4, then
things like this happened. At no point did Arsenal have
a comfortable position in any table afterward.
Photo: Guardian.
In November of 2010,
I wrote on my old blog
that Matchday 4, a road trip to Shakhtar Donetsk, was not the time to start rotating the squad. Three points there would have given Arsenal a stranglehold on their group with two matches to play; they would have been six points clear. With a tough month of fixtures ahead, it would have been better to take care of business then, and rotate the squad comfortably later, thanks to the breathing room created. Then, Arsene Wenger made seven changes to the side that had beaten West Ham at the weekend, and Arsenal lost 2-1. The rotation would have been debatably fine if Arsenal resumed winning in the league, but then they lost 1-0 at home to Newcastle, and things started to unravel. By the end of November, they had lost on Matchday 5 too, and they desperately had to been Partizan Belgrade just to assure Champions League football in the new year. And we all know what happened there; they finished second in the group and drew Barcelona in the Round of 16.
This year, Arsenal's November form is a bit better (they've had the benefit of an international break during which they could not lose a game.) But now, before Matchday 5, at home against Borussia Dortmund, Arsenal have the chance to take a stranglehold again. Their lead is just a point, but they can end the day today winners of Group F if things go their way. Here's the breakdown:
If Arsenal wins, they qualify for the knockout phase, for sure. They'll win the group outright if Marseille drops points at home to Olympiacos. A draw for Arsenal is enough to qualify for the Round of 16 as well, as long as Marseille doesn't lose (because then neither Dortmund nor Olympiacos could catch Arsenal.) Arsenal are assured to still be playing in Europe in the new year if Olympiacos drops points, regardless of their own result.
In any case, let's not get bogged down by the complicated scenarios that spring up if Arsenal don't win. They advance with three points and that's all they can control right now. As a result, you would hope Arsene Wenger has learned a lesson from the trip to Donetsk a year ago. Taking care of business now means you can rotate your squad later. Don't rotate now and make things harder for yourself. This is Arsenal's second game in a 22 day period where they play seven times. They've won the first one. Winning this second one would help make the sixth (the trip to Olympiacos) moot. Wouldn't you much rather rotate the squad there with the group already won?
It's a good sign to hear Arsene Wenger talk about how Robin van Persie is expected to start this one. He knows this is not the time to start messing with the line-up, with so much on the line.
Arsenal Squad News
Out: Rosicky (thigh), Gibbs (hernia), Sagna (broken leg), Jenkinson (back), Wilshere (ankle)
The biggest team news for this match surrounds the return of Abou Diaby to the side. He returned to full training last week, and slips back into the first team thanks to a minor thigh strain to ex-Dortmund midfielder Tomas Rosicky. Just in case Diaby plays, I want to remind everyone of what the main Diaby chant is. Basically, one group of people yells "Diaby!" and then after that, the other remaining group of people also yells "Diaby!" It's to the same tune as the Red Army chant. We've been out of practice with this one for a while, so I suspect it might take a few tries to get it down again. It is pretty tricky.
As mentioned above, Arsene Wenger has stated that Robin van Persie will start, so those fears of too much squad rotation for a match of this magnitude have been assuaged a bit. Sure, there could be some rotation. Maybe a start for Andrei Arshavin, or Johan Djourou, or someone else on the fringes? I don't feel like predicting that, though, because I'd like to think there won't be that many changes.
Aside from Rosicky, all of the other injuries are known at this point: Kieran Gibbs had hernia surgery and will be out until around Christmas, the same goes for Bacary Sagna and his broken leg and Carl Jenkinson's stress fracture in his back. It still looks like some point in January for Jack Wilshere and his ankle. Jack Wilshere made some waves on Monday by offering to pay £3,000 to charity if Spurs finish above Arsenal in May. Tottenham fans went ballistic on Twitter, as you could probably have predicted, many stating that that's not enough to wager. One also said, "
learn how to grow a beard properly
." Good one...
Predicted XI: Szczesny, Koscielny, Vermaelen, Mertesacker, Santos, Song, Ramsey, Arteta, Walcott, Gervinho, van Persie.
Dortmund Squad News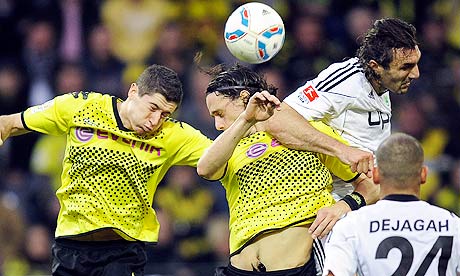 Neven Subotic needed surgery after this elbow to the face.
That sounds really painful. Photo: Guardian.
Out: Subotic (face), Koch (knee)

In terms of Dortmund's injuries, Neven Subotic will be out until the new year, having undergone surgery to repair a face injury he suffered against Wolfsburg. Julian Koch has been out since February with knee ligament damage and is not in Dortmund's named Champions League squad.
Mohamed Zidan has been out for Dortmund since matchday one with a thigh injury, but he started for Egypt in a friendly during the last international break. Patrick Owomoyela has been out since October, when he scored a goal in his only appearance this season, but has since returned to be an unused substitute. Marcel Schmelzer missed Germany's recent friendlies with a calf strain, but he returned at the weekend. He is one yellow card away from picking up an accumulation ban.
Current Form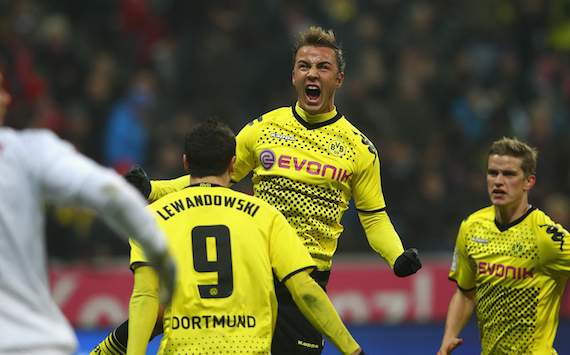 Both sides are in strong domestic form; Dortmund won 1-0
at the Allianz Arena to beat Bayern Munich at the
weekend. Photo: Goal.com.
On Saturday, September 17, Arsenal lost 4-3 at Blackburn Rovers, in a match where they conceded two own goals in the second half. On Sunday, September 18, Dortmund lost 2-1 at Hannover. Since that weekend (which incidentally followed their Matchday 1 draw in Dortmund,) the two sides have combined to lose three games over a total of 23 matches between them. Both of Dortmund's losses, however, came in this competition.
Dortmund have now won six of their last seven league fixtures and this weekend beat Bayern Munich, in Munich, 1-0 with a 65th minute goal from Mario Goetze. In that time period they also beat second tier side Dynamo Dresden to advance to the third round of Germany's top cup competition. However, they have lost twice, and both were in the Champions League, falling 3-0 to Marseille in France and 3-1 to Olympiacos in Greece. They've rebounded with a home win over Olympiacos, but their travels in Europe have not been kind to them so far this season.
Arsenal's 0-0 draw with Marseille is their only blip on the radar since falling 2-1 at Tottenham on October 2. It was also the first time they dropped points at home since losing to Liverpool in August. Still, the last time Arsenal lost a European match at home to a side that wasn't English was the group stage in 2003, but they got
pretty good revenge
for that loss in the reverse fixture.
Match Facts
Here's David Beckham not scoring against Dortmund in
1997. This isn't from one of Dortmund's two wins on
English soil, this was in Germany. Do you know how hard
it is to find pictures from 14 years ago on the Internet?
Photo: Telegraph.
This is the fourth meeting all-time between Arsenal and Dortmund. The German side dominated much of the reverse fixture in Matchday 1, but the Gunners led most of the way through a Robin van Persie goal just before halftime. Dortmund deserved a point, and earned it through Ivan Perisic's 88th minute equalizer.
Both sides met in the group stage in 2002/03. Arsenal won 2-0 at Highbury (Dennis Bergkamp and Freddie Ljungberg had the goals) but Dortmund won 2-1 in Germany (Tomas Rosicky had both goals for the German side canceling out Thierry Henry's opener.) Jens Lehmann was in goal for Dortmund for both matches.
Arsenal have won eight out of 10 home matches against German sides in European competitions. They've drawn one (2-2 with Bayern Munich in the second group stage in 2000/01.) The loss was in the UEFA Cup in September of 1996, 3-2 to Borussia Monchengladbach. Dortmund have won twice and lost three on English soil. The wins came in 1966 at Upton Park against West Ham United in the Cup Winners' Cup semifinal (they beat Liverpool in the final) and 1997 at Old Trafford against Manchester United in the semifinal of the Champions League (they beat Juventus in the final.)
The Referee
Sergio Busquets hurt his face, oh no! The referee whom
Busquets tricked on this occasion was Frank De
Bleeckere, who sent off Thiago Motta in the 28th minute.
Photo: Hooligans United.
The referee is Frank De Bleeckere, from Belgium, working his final international match (he turned 45 years old this year, which is the FIFA maximum age.)
Arsenal have three wins from three matches with De Bleeckere in charge, most recently, their 5-0 second leg win over Porto to advance to the quarterfinal in 2010. You may recall that Nicklas Bendtner had a hat trick in that game. He was also at the center of Arsenal's 3-0 win over Sparta Prague in the 2007 qualification play-off (where Arsenal sealed a 5-0 aggregate win) and a win at Auxerre in the 2002 group stage, where Gilberto Silva's 47th minute goal gave Arsenal a 1-0 victory.
This is only his second Dortmund game, previously working a 3-0 second group stage win for Dortmund over Lokomotiv Moscow in March of 2003.
De Bleeckere was recently in London; he worked England's 1-0 friendly win over Spain on the 12th of this month at Wembley.
Around Europe
Napoli scores against AC Milan Manchester City.
Photo: Daily Mail.
In yesterday's results, Manchester City find themselves facing an exit door from the Champions League marked "BAYERN MUNICH." Bayern won 3-1 over Villarreal, but City lost 2-1 at Napoli. Napoli are now one point ahead of City for second place and just have to match City's result against Bayern Munich at Eastlands on Matchday 6 to send the Petro-Dollar All-Stars to the Europa League. Meanwhile, Manchester United are not looking great either. They drew 2-2 with Benfica. On Matchday 6, they will travel to Switzerland to face Basel. If they lose, it's the Europa League for them too. Basel beat Otelul Galati 3-2. Elsewhere, Lille won 2-0 at CSKA Moscow, Inter Milan (who have qualified) drew 1-1 at Trabzonspor, Real Madrid thrashed Dinamo Zagreb 6-2 and Lyon and Ajax played a 0-0 draw.
Elsewhere today, the other Group F match sees Marseille hosting Olympiacos in France. As for the English sides, Chelsea is on the road when Arsenal is at home in the group stage; they are in Germany to face Bayer Leverkusen today. The other group match in Chelsea's group, E, sees Valencia host Genk. Meanwhile, AC Milan welcomes Barcelona to the San Siro (I suppose that's a big match, or something,) BATE Borisov hosts Plzen in Belarus, Shakhtar Donetsk hosts Porto in the Ukraine, and Zenit St Petersburg hosts surprise table topping Cypriot side APOEL in the earliest match.