Tuesday, November 29
3:00 p.m. EST, 8:00 p.m. GMT
Match Officials

Referee: Lee Probert
Assistants: Scott Ledger and Stuart Burt
4th Official: Stuart Atwell

All-Time in All Competitions: 92 Arsenal wins, 45 Manchester City wins, 40 draws
Arsenal's Path Here

Third Round: 3-1 win over Shrewsbury Town
Fourth Round: 2-1 win over Bolton Wanderers

Manchester City's Path Here

Third Round: 2-0 win over Birmingham City
Fourth Round: 5-2 win over Wolverhampton Wanderers

Arsenal's League Form: W-W-W-W-W-D
Manchester City's League Form: W-W-W-W-W-D
Story time. On December 2 of 2009, Arsenal met Manchester City in this very round of the Carling Cup, at Eastlands. Arsenal was reeling. Robin van Persie had been injured on international duty in mid-November, and Arsenal followed with league losses to Sunderland and Chelsea. In their only win over a two week span, they beat Standard Liege in Europe, but lost Kieran Gibbs to injury (joining an already injured Gael Clichy on the sidelines.) Things were not going Arsenal's way.
Carlos Tevez opened the scoring in City's 3-0 Carling Cup
win over Arsenal in 2009. Where is he now? Photo: BBC.
As per Arsene Wenger's Carling Cup ideals, Arsenal fielded a largely reserve side. Lukasz Fabianski was in goal, Alex Song was in central defense (with Silvestre,) Armand Traore was the new starter at left back. Arsenal's midfield consisted of the likes of Craig Eastmond, Fran Merida, and not-quite-where-they-are-now Jack Wilshere and Aaron Ramsey. Carlos Vela started up front. Manchester City, meanwhile, fielded their standard starting line-up; they were in the hunt for silverware: Given; Richards, Toure, Lescott, Bridge; Wright-Phillips; Ireland, Barry, Bellamy; Tevez, Adebayor. That was pretty much their XI that year.
Seeing those line-ups, you can imagine what the result was. Arsenal managed to hold on to keep things 0-0 by the half, but Carlos Tevez scored in the 50th, Shaun Wright-Phillips scored in the 70th, and substitute Vladimir Weiss made it 3-0 when the result was academic. To quote the Guardian MBM at matches end: "[Manchester City's] expensively assembled first team has quashed Arsenal's reserves, who, though tidy in patches, looked like they could have benefited from having a couple more seasoned warriors alongside them."
A lot has changed in two years. City's team is now even more expensively assembled, but that means they're trying to run away with the league title rather than struggle for fourth. Arsene Wenger has eased up a little bit on the Carling Cup youth policy and now we tend to see an Arsenal XI with a healthier mix of reserves and experienced players who need games. Does that mean the result will be changed? Let's hope so.
Arsenal Squad News
Out:
Miyaichi (ankle), Gibbs (hernia), Sagna (broken leg), Jenkinson (back), Wilshere (ankle)
Doubts:
Diaby (muscular), Rosicky (thigh)
Rested:
van Persie, Walcott, Ramsey
Arsene Wenger has been speaking a lot lately of playing being in the "red zone" or on "red alert" in terms of them being fatigued to the point where they are close to injury. Laurent Koscielny, for example, was subbed off against Dortmund due to fatigue, then did not play on Saturday against Fulham. Now, he's talking about the likes of Theo Walcott, Aaron Ramsey, and, most notably, Robin van Persie. Since this is the Carling Cup, one should not expect to see any of them feature at all.
There are a number of players whom you should expect to feature, and in some instances, start. You can bet Lukasz Fabianski will be the goalkeeper. Ju Young Park should be up front, maybe even with Marouane Chamakh in a 4-4-2. Yossi Benayoun should start. You're likely to see Emmanuel Frimpong, Francis Coquelin, and Alex Oxlade-Chamberlain. Abou Diaby would've started, but surprise! He's got a minor injury! He picked up a small muscular problem against Fulham and faces a fitness test. But, honestly, Diaby should probably face a fitness test before every game. Also, Tomas Rosicky is still being assessed on a game-by-game basis and could use a run-out if he's fit.
The back four poses a few interesting questions as well. How much youth do you field against a team with the firepower that even Manchester City's bench threatens? How much experience can you even try to field when most of the fullbacks are hurt? Andre Santos needs a rest and the usual right back cover will probably play in the center. Big tests for Nico Yennaris and Ignasi Miquel, methinks. Though, I'm a little fearful of seeing Sebastien Squillaci in the XI. Perhaps a start is in order for Koscielny after he was rested at the weekend? Or Mertesacker? Both possible, but Johan Djourou might be more likely there.
Manchester City Squad News
Out:
None
Suspended:
Balotelli (one match, two yellow cards), Barry (one match, accumulation)
Balotelli is upset that he now can't feature in the
Carling Cup. Photo: ESPN.
For a team that's so expensively assembled, like Manchester City, you would think they'd have a little bad luck at some point when it comes to their side, right? City currently has zero players injured on their squad. Seriously, not a single one of them is hurt. When exactly did they make this deal with Satan? Owen Hargreaves was recently out with a calf/hamstring problem, but he is now fit again, and could play in this one. They'll likely play most of their bench in this match, a squad which will still have cost them a bajillion dollars.
The only two exclusions from City's potential roster come from suspension: Mario Balotelli, for his red card cameo appearance against Liverpool on Sunday and Gareth Barry, due to yellow card accumulation.
Current Form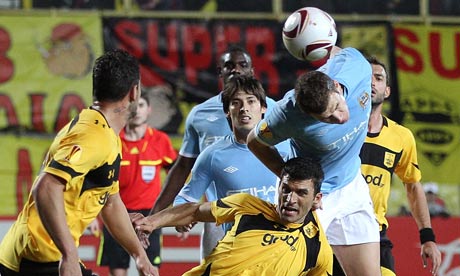 The last time City went two matches without a win, they
drew 0-0 at Aris Salonika. Remember that?
Photo: Guardian.
Arsenal's 1-1 draw with Fulham at the weekend might have ended their five game winning streak in the league, but it did extend their unbeaten streak overall, which now has reached double figures and hit 10 games across all competitions, dating back to the loss at Spurs in early October. A win today would match Arsenal's longest unbeaten run from last season, which was 11. Technically, if the match were to go to penalties, no matter how it ends, it would historically be considered a draw, so while it would not feel like it, Arsenal would extend their unbeaten run to 11 even if they lost on penalties. At home, Arsenal have not lost since falling 2-0 to Liverpool during the second week of the season. They have won nine and drawn two at the Emirates since that day.
Manchester City's 1-1 draw with Liverpool at the weekend means that both of these sides have, over the last six games in the league, the exact same run of form. Manchester City, however, are still unbeaten. Arsenal will get the chance to defend their Invincibles record at Eastlands on December 18, though before that, City has to visit Stamford Bridge. In league play this year, City has 11 wins and two draws. They've only lost three competitive fixtures overall (one of which was the Community Shield to Manchester United;) the other two losses were in Europe and on the road. Across all competitions, though, City have gone two matches without a win for the first time since February, when they lost to Manchester United at Old Trafford, then drew at Aris Salonika in the Europa League knockouts.
Match Facts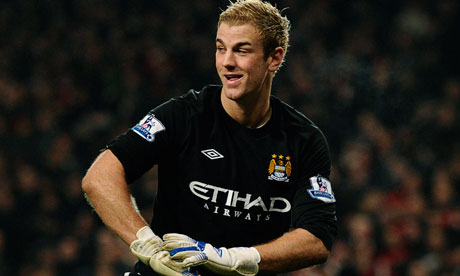 Look at Joe Hart just smirking while City parks the bus
for a point at the Emirates in January. Doesn't that just
piss you off? Photo: Guardian.
This is the seventh time Arsenal have met Manchester City in the League Cup. Before City's 3-0 win in 2009, Arsenal had won the prior five meetings, though the 1978 fifth round tie required a replay. Their third round meeting in October of 1986 was the only time before this year that the draw saw the tie start in North London. If you know your Arsenal history, you'll recall that in 86/87, Arsenal won the League Cup Final over Liverpool, after defeating Tottenham Hotspur in a semi-final replay.
Arsenal took four of a possible six points from Manchester City last season, while the year before, City took something out of all three meetings. These sides have played 0-0 draws at the Emirates in each of the last two seasons, while the three meetings at Eastlands in that time have all been decided by either two or three goals.
Arsenal won the opening match between the sides last October, winning 3-0 at Eastlands, thanks to Dedryck Boyata's fifth minute red card for a last defender foul on Marouane Chamakh. Samir Nasri, Alex Song, and Nick Bendtner scored Arsenal's goals. In January at the Emirates, City parked the bus to earn a point and got it. Arsenal had a number of chances in a wild opening ten minutes before City's defense took over, making the final 80 minutes boring as all hell.
Two years ago, Emmanuel Adebayor was reckless as City won 4-2 at Eastlands in September of 2009. Then, City won in the Carling Cup 3-0, in the story told earlier in this blog post. Arsenal and City played a dreadful 0-0 draw at the Emirates that year, too.
You have to go back to October 4, 1975 to find the last time Manchester City beat Arsenal in North London. They won that day, 3-2.
The Referee
Lee Probert gets poked in the face by Jamie Carragher.
The referee is Gloucestershire-based Lee Probert. This is his first Arsenal and first Manchester City match of this season. Probert worked two Arsenal matches last season. The first was the 4-1 extra time win at Tottenham Hotspur in the Carling Cup third round, in which he awarded two penalties to the Gunners in the opening half of extra time. The second was the 2-2 draw at Wigan in December when Squillaci's 81st minute own goal gave Wigan a point. Last year for City, he worked 2-0 wins at Wigan and West Brom, a 1-0 win over Reading in the FA Cup, and the 3-0 win over Stoke that followed the FA Cup Final between the same two sides.
Probert has worked a number of big matches already this season, including United's 3-0 win over Tottenham at Old Trafford and Liverpool's 2-1 win at Chelsea. He's also taken charge of one Euro 2012 qualifier and two Europa League group stage matches (those two matches include the only red cards he has shown this year.) He also showed 10 yellow cards in one match in September, a Championship 3-3 draw between Leeds and Brighton.
Elsewhere in the Carling Cup
It's the final eight in the Carling Cup, which means there are three other quarterfinal ties taking place this week. Three matches take place today with one more tomorrow. Today, Chelsea welcomes Liverpool to Stamford Bridge; Liverpool won this league fixture 2-1 on November 20. Elsewhere, Championship side Cardiff City hosts Blackburn Rovers, who will probably be a Championship side next season. Tomorrow, Manchester United hosts the lowest ranking team remaining in the cup (of course), as they welcome South London's Crystal Palace to Old Trafford.