Stamford Bridge, London
Saturday, October 29
7:45 a.m. EDT, 12:45 p.m. BST
RSVP on Facebook
Match Officials

Referee: Andre Marriner
Assistants: Scott Ledger and Adam Watts
4th Official: Howard Webb

This Match, Last Year: Chelsea 2 - 0 Arsenal
All-Time in All Competitions: 70 Arsenal wins, 54 Chelsea wins, 51 draws
Arsenal's League Form: W-L-W-L-W-W
Chelsea's League Form: W-L-W-W-W-L
Ju Young Park's first Arsenal goal put the Gunners into
the last eight of the Carling Cup, but it was Arshavin's
performance that helped Arsenal through. Photo: BBC.
Seven wins from their last eight. Four wins in a row. A climb up to seventh in the league table. Top spot in the Champions League group. Quarterfinal reached in the Carling Cup. Given the precarious situation this club found itself in about a month ago, things certainly are looking up, aren't they?
Yes, in this stretch, Arsenal have proven that they can beat the likes of Sunderland, Stoke City, Shrewsbury Town, Olympiacos, and Bolton (twice!) at the Emirates. Very little about this run of form has told us about how Arsenal can play on the road against top class competition. They couldn't win at White Hart Lane, but they did snatch a win late in France. It's still way too soon to talk about turning the corner.
But, that can start entering the discussion of turning the corner with three points tomorrow at Stamford Bridge. A loss here, and this team is no closer to Champions League football next season than they were during their dreadful August campaign. But a win will do wonders for this team's confidence moving forward. Three big points on the table in this one. It's time to really see what this team is made of.
Arsenal Squad News
Out:
Benayoun (loan terms), Jenkinson (knee), Gibbs (stomach), Sagna (broken leg), Wilshere (ankle), Diaby (ankle)
Everyone RELAX! It's just a cramp! Photo: Daily Mail.
Arsenal were boosted on Tuesday by the return of Thomas Vermaelen at center back, then momentarily terrified again when he limped off before the match ended with a tight calf. But, good news everyone, it was just a cramp, he reported for full training on Wednesday, and is expected to be fit for tomorrow. He also spoke about how he doesn't understand why people say players need to get back into the groove of playing when they return from injuries, further proving my theory that Tom Vermaelen is a robot. An... easily breakable robot, but a robot nonetheless!
Should Vermaelen start at center half with Per Mertesacker beside him, the common thought is that Laurent Koscielny will be one shifted to right back. I'd rather have the in-form French defender dealing with Juan Mata than the up-and-down Johan Djourou.
Kieran Gibbs, Carl Jenkinson, and Abou Diaby are all still short of fitness to return for this match and Yossi Benayoun cannot play against the club from whom he is on loan. This leaves Bacary Sagna and X-Factor fan Jack Wilshere as the long term injuries.
Chelsea plays more of a pressing style this season under Andre Villas-Boas, so the onus will be on the Arsenal midfield to respond to that pressure and provide the through balls to the likes of Gervinho, Theo Walcott, and Robin van Persie, in the hopes that their pace can catch Chelsea on the break. It'll be a big match for Aaron Ramsey, Alex Song, and Mikel Arteta.
Predicted XI:
Szczesny, Koscielny, Mertesacker, Vermaelen, Santos, Song, Ramsey, Arteta, Gervinho, Walcott, van Persie.
Chelsea Squad News
Out:
Ramires (knee), Hilario (back), Essien (knee)
Suspended:
Drogba (second of three), Turnbull (one match)
Chris Foy shows a red card to a giant invisible man that
is about to help Didier Drogba get back to his feet. At
least that's my interpretation of what's going on here.
Photo: Eurosport.
Noted Arsenal-beater Didier Drogba serves the second match of his three match ban for the straight red card he received on Sunday in Chelsea's 1-0 loss at Queens Park Rangers. Chelsea were lucky that Jose Bosingwa (for a last man foul) and Ashley Cole (for accumulation of yellow cards) were able to serve one match bans through Chelsea's Carling Cup extra time win at Everton.
Chelsea have three long term injuries to contend with. Back-up goalkeeper Hilario is out until the beginning of November with a back injury (that, via various Internet research I've done, no Chelsea fan remembers him suffering,) Ramires is out until the end of November with a knee injury suffered against Everton in league play two weeks ago, and Michael Essien is out after surgery to repair knee ligament and meniscus damage until February.
Ross Turnbull has been serving as back-up goalkeeper, but he was sent off for a last man foul in the Carling Cup, so he has to serve a one match ban in this match. Petr Cech, of course, starts in goal, but his back-up will have to be reserve goalkeeper Rhys Taylor, since Hilario is listed as out with a back injury.
Current Form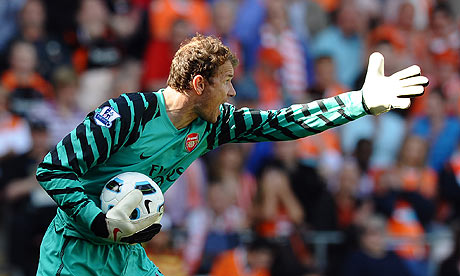 The last time Arsenal won a league game on the road,
this guy played. That is bad form. FIX IT! Photo: Guardian.
Sure, Arsenal have won seven of their last eight matches, but six of them have come within the confines of Emirates Stadium. Arsenal's road form this season is as follows: a win at Udinese, a catastrophe in Manchester, a hard earned point in Dortmund, a catastrophe at Blackburn, a disappointing effort at Tottenham (you could call losing the North London derby a catastrophe, too,) and a last minute win against a Marseille side that was playing for a 0-0 draw by the end. This away form doesn't exactly fill me with confidence. Arsenal still have not won a league fixture on the road since beating Blackpool on April 10. The last time they won two straight road games across all competitions was January (West Ham in the league and Leeds in an FA Cup replay.) Arsenal's 1-0 win over Marseille was their first clean sheet on the road since the season opening 0-0 at Newcastle.
Meanwhile, Chelsea have picked up the same number of points as Arsenal (12) over their last six league fixtures, but they have yet to drop points at home this season. If you want to get technical, Fulham held them to a draw in the Carling Cup, but then Chelsea won on penalties. Newcastle's 2-2 draw at the Bridge in Chelsea's final home game last year was the last time Chelsea did not win at home. The Blues last league loss at home? That was to Liverpool, on February 6. Two months later, they also lost at home to Manchester United, in the Champions League. Sunderland and Liverpool were the only teams to come out of a league match at Stamford Bridge with a win last season. The year before that, only Manchester City came out of the Bridge with three points.
Match Facts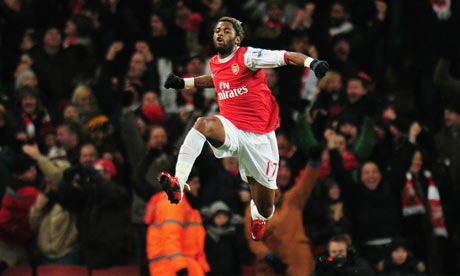 Alex Song opened the scoring in Arsenal's last match
against Chelsea, at a time when he was still a bit of a
"rogue striker." Photo: Guardian.
Arsenal and Chelsea split their matches last season, with both sides winning at home. At the Bridge in October, Didier Drogba opened the scoring just before halftime, and a thunderous free kick from Alex closed the scoring late as Chelsea won 2-0. The day after Boxing Day at the Emirates, Arsenal turned in one of their best performances of the season in a 3-1 win, during which Alex Song, Cesc Fabregas, and Theo Walcott scored. Before that match, Chelsea had kept three straight clean sheets against Arsenal (Drogba had five goals in those three games) and had won five in a row (outscoring Arsenal 13-2.) Drogba has scored 13 goals in his last 12 competitive fixtures against Arsenal, but he won't be scoring tomorrow.
Arsenal's last win at Stamford Bridge came on November 30, 2008. Chelsea opened the scoring via a Johan Djourou own goal in the first half, but a brace from Robin van Persie in the 59th and 62nd minutes gave Arsenal a 2-1 win. Before that, Arsenal's last win at the Bridge was during the Invincibles season.
The Referee
Andre Marriner gives someone the crazy eyes in an
Arsenal-Chelsea fixture from 2009. Photo: Sky Sports.
The referee is West Midlands-based Andre Marriner. You may recall Marriner from Arsenal's 1-1 home draw with Liverpool last year, which involved both sides scoring penalty kicks during an absurd 12 minutes of added time. As I've mentioned on this blog before, in retrospect, I think most of us blame Emmanuel Eboue for conceding the penalty and not Marriner for calling it. What we do blame Marriner for is why the match went more than two minutes beyond the eight announced minutes before the second penalty was ever called. Robin van Persie's prior penalty did not take that long.
Earlier this year, Marriner was in charge of Arsenal's 4-3 loss at Blackburn, but I think we can all agree that Arsenal flat out lost that game and Marriner was fine. This is Andre Marriner's first Chelsea match this season. In five games this year, he has shown 16 yellow cards and no reds.
Around the League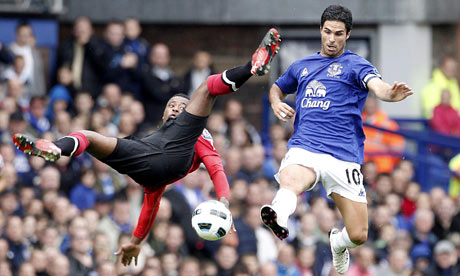 Mikel Arteta bends time and space to knock Patrice Evra
onto his ass in this fixture last year. I can see why
Arsenal signed him. Photo: Guardian.
Starting even earlier than this match, Everton v. Manchester United will kick off from Goodison Park at 7:00 a.m. on the East Coast, which is before the sun will even rise over New York City (that's at 7:22.) Five matches will kick off in the standard 10:00 a.m. time slot: Manchester City hosts Wolves at Eastlands, after winning 5-2 at Molineux in the Carling Cup this week. Norwich, fresh off a draw at Anfield, will host bottom of the table Blackburn Rovers at Carrow Road. Sunderland welcomes Aston Villa to the Stadium of Light, while Bolton travels to Wales to face Swansea, and Wigan hosts Fulham at the DW Stadium. Saturday's late match sees Liverpool travel to The Hawthorns to face West Bromwich Albion.
So, that's a whopping eight matches on Saturday, leaving only one on Sunday and one on Monday. Sunday's match sees Tottenham Hotspur host Queens Park Rangers in a London derby, while on Monday, Stoke City hosts Newcastle. These matches will start an hour later than they normally would, as we see them in the U.S. because England changes their clocks this weekend.
Please keep in mind that we here in New York change our clocks on the morning of Sunday, November 6. That means Arsenal's match against West Brom at the Emirates next Saturday kicks off at
11:00 a.m.
and not 10:00.