Emirates Stadium, London
Sunday, October 23
8:30 a.m. EDT, 1:30 p.m. BST
Match Officials

Referee: Lee Mason
Assistants: Adam Watts and John Flynn
4th Official: Jonathan Moss

This Match, Last Year: Arsenal 1 - 0 Stoke City
All-Time in All Competitions: 49 Arsenal, 23 Stoke wins, 21 draws
Arsenal's League Form: L-W-L-W-L-W
Stoke's League Form: W-W-L-D-L-W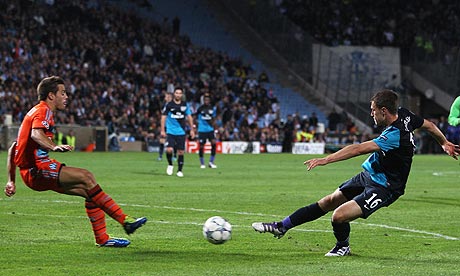 Aaron Ramsey practices... FOR VENGEANCE.
Photo: Guardian.
Well, Arsenal's now progressing along quite nicely in Europe, aren't they? It's funny what one shot on goal in the 92nd minute can do to lift your spirits. Before that, Arsenal and Marseille were playing a boring 0-0 draw, which, to be honest, was okay from an Arsenal perspective. But you have to think, Marseille should never have been playing for a draw at home in the Champions League, and they got punished for it. Now, Arsenal's sitting with a chance to secure qualification with a win in two weeks. Good times on that front.
But Arsenal is not out of the woods yet when it comes to league form. They've been winning at home, which is nice, but 10th place is still a precarious location to be in the table at the end of October. A worrying stat I'll touch on later shows that all four of Arsenal's losses this season have come in league matches played after Champions League matches. Arsenal have yet to win a league match that directly followed an European game. This has killed every possible "run of form" Arsenal has started to build since the start of September. That hast to stop now.
And what better occasion to get a big confidence building win than a home match against Stoke City, a team with a history against Arsenal. Given everything that has happened between these two teams over the past three years, there should be no reason why Arsenal can't get psyched up for this match. A result on Sunday is paramount moving forward for this team. These false starts of form are getting tiring. Three points in this one and maybe the Gunners are a little closer to finding their way out of the woods. Time will tell. But, they've got to put all on the line. Not just for the cannon on the badge, but for Aaron Ramsey as well.
Come on, you Gunners!
Arsenal Squad News
Out:
Jenkinson (knee), Gibbs (stomach), Sagna (broken leg), Vermaelen (ankle), Wilshere (ankle), Diaby (ankle)
Really? This is the new medical center? It looks to small
to fit all 623 injured players on the roster.
Photo: Arsenal Pics.
On Monday, Arsenal announced that they opened a new state-of-the-art medical center on the training ground. I just hope it's big enough to handle the stockpile of injured players Arsenal seems to be keeping.
Add to the list Mr. Carl Jenkinson, preparing for the first real run of starts in his Arsenal career, who hyper-extended his knee against Marseille midweek and is now set to miss at least two matches (this one and the Carling Cup on Tuesday) and he could still be short for Chelsea next weekend. Also out listed as out for "two weeks" are Kieran Gibbs, Thomas Vermaelen, and Abou Diaby, the latter two of whom have been out seemingly forever. Though, at least we have seen Vermaelen this year. Jack Wilshere and Bacary Sagna are still the long-term injuries.
The injury to Jenkinson leads to an all new selection problem, as Arsenal now has zero first team right backs (God is clearly upset with the club for selling Eboue.) This means either Johan Djourou or Laurent Koscielny will start on the right. I suspect it'll be the former, given Koscielny's strong form at center back as of late. He was fantastic in Marseille. Tomas Rosicky is also probably in the best form we've seen in a long time, so I can't really tell what Arsene Wenger will do with selecting him vs. Aaron Ramsey now that the latter is back from a hamstring strain.
Predicted XI:
Szczesny, Djourou, Mertesacker, Koscielny, Santos, Song, Ramsey, Arteta, Gervinho, Walcott, van Persie.
Stoke Squad News
Pennant's fitness test and ex-Arsenal status has led to way
too many puns asking if he's Gunner be fit. I'm sorry for
even referencing that. Photo: Daily Mail.
Out:
Fuller (Achilles)
Doubts:
Pennant (hamstring), Higginbotham (knee)
On the injury front, Stoke has a number of players returning from injury, so their news is much more positive on that front than Arsenal's. However, ex-Arsenal Jermaine Pennant faces a late fitness test on an injured hamstring and Danny Higginbotham (out since April with a knee injury) is doubtful, having just returned to play for the reserves.
Stoke will definitely be without Ricardo Fuller; he's out until November with an Achilles injury. Asmir Begovic will likely start between the sticks in goal, returning after Thomas Sorensen started Thursday's Europe League 3-0 win over Maccabi Tel Aviv
Current Form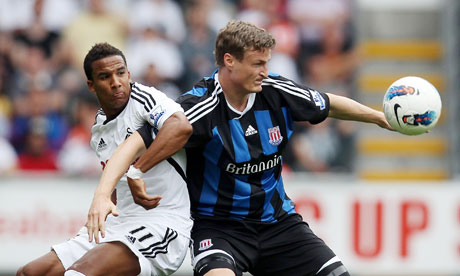 Swansea locally billed their match with Stoke as
Beauty v. The Beast. Tony Pulis said of Swansea, "they
move the ball around nicely." Note that he'll never say
the same about Arsenal. Photo: Guardian.
I'm not sure how many times I can repeat similar things in this section, but generally speaking, here is how Arsenal's form has been for the past month and a half: Home form good, road form bad. Quite honestly, I'd love to just be able to change the last word of that sentence to "good" and then have the opportunity to just say that in this section every single week. But, what would this feature be without more detailed analysis than that? It'd be just a bunch of pictures with sarcastic captions, that's what.
Arsenal have now won five straight matches on home soil across all competitions. Since the close of the transfer windows, Arsenal have won matches at home against Swansea, Shrewsbury Town, Bolton, Olympiacos, and Sunderland. And while Stoke is probably a better opponent than all five of those teams, keep in mind that Stoke sit 7th in the table thanks largely to home form.
The bad news, concerning form, is that all four of Arsenal's losses this season have come in the days following Champions League matches in the midweek. Losses to Liverpool and Manchester United followed the play-off wins over Udinese. The loss to Blackburn followed the draw at Dortmund. The loss at Spurs followed the win over Olympiacos. That's a worrying trend for the Gunners. Then again, both of Stoke's losses this year, referenced later, came after Europe League matches. So, if those trends will continue, both teams will lose... or, something...
Anyway, Stoke's league form away from home this season is nothing to write home about. They have one win in four matches (1-0 at West Brom), they have a draw at Norwich (1-1) and they were outscored 6-0 in their two losses (2-0 at Swansea and 4-0 at Sunderland). And you'll notice that those are two of the five sides I just said are probably lesser opponents than Stoke in the above paragraph. Their best road result might honestly be the 1-1 draw they picked up at Dinamo Kiev in the Europa League.
Stoke can hang with the best of them at the Britannia (just ask Chelsea, Liverpool, and Manchester United who have drawn, lost, and drawn there, respectively.) But this match is not there.
Match Facts
Did you know that Sebastien Squillaci scored two goals
last year? Photo: Daily Mail.
The last time Stoke City won a match at Arsenal, the U.S. Billboard #1 hit was "Endless Love" by Diana Ross and Lionel Richie. The day after, the U.K. #1 hit was "Tainted Love" by Soft Cell. The date was August 29, 1981, and since then, Arsenal have won all nine meetings with Stoke at home. Six of those have been league meetings, with three victories in cup ties coming during the time when Stoke was not top flight.
Since Stoke's return to the top flight, they have lost three matches at the Emirates. Last year, it came by a 1-0 scoreline, thanks to a Sebastien Squillaci 8th minute goal. Remember? That actually happened. The year before, it was a 2-0 win, and Aaron Ramsey had the second goal. Three years ago, it was a 4-1 Arsenal win, which included a Robin van Persie brace. Ricardo Fuller's penalty in that match is Stoke's only league goal at the Emirates since promotion.
Arsenal does not have the same run of form when playing Stoke away, which includes last year's dreadful 3-1 loss in the last meeting between the sides, an FA Cup crash, the Ryan Shawcross incident, and a straight red card to Robin van Persie the year prior. But, while Arsenal had struggled at the Britannia in the past, they don't have to worry about that until the end of April this year, barring a cup tie.
The Referee
Lee Mason might not be the best at positioning himself.
Photo: The Sun.
The referee is Lancashire-based Lee Mason. Mason was at the center of a number of critical judgment calls involving Arsenal last season, at least one arguably incorrect and against the Gunners, and at least one arguably correct and technically beneficial, though also partially against the Gunners. So, let me explain:
Mason was supposed to take charge of this fixture as it was originally scheduled last season, but a snowstorm on December 18 forced Mason to call off the match, and it was rescheduled for February. (There were ramifications of having to play Stoke midweek before the Carling Cup final, but that's a separate issue.) Mason's first match in the middle involving Arsenal last year was against Everton at the Emirates, when he awarded a goal to Louis Saha that invoked a confusing gray area in the offside rule interpretation. Basically, Saha was standing offside when the ball was played to him, but Laurent Koscielny attempted to intercept the pass and only deflected it to Saha, which then made him onside because it was another phase of play. The call, as I alluded to above, was "arguably incorrect," but the law actually gives the referee enough leeway to use his own discretion. Arsenal ended up winning 2-1 thanks to Andrei Arshavin's 70th minute equalizer and Koscielny's 75th minute winner.
After working Arsenal's 5-0 win over Leyton Orient in an FA Cup replay, Mason's final outing involving Arsenal was the 3-1 win at Blackpool. In that match, Jens Lehmann was Arsenal's only available goalkeeper and he was very nearly sent off in the build-up to Blackpool's goal. Lehmann clipped DJ Campbell in the penalty area and was the last man, but the ball bounced to Gary Taylor-Fletcher. Mason played advantage and Blackpool scored, but had Mason blown the whistle, it's a straight red card to Lehmann, a penalty to Blackpool, and Robin van Persie in as the back-up goalkeeper.
Lee Mason took charge of three Stoke matches last season: a 1-1 draw with West Ham last September, a 4-0 win over Newcastle in March, and a 3-0 win over Wolves in April. He is one of only six Select Group officials not to show any red cards this season, though he averages over four yellow cards per match.
Around the League
When was the last time Wolves v.
Swansea was moved for television?
Photo: BBC.
Odd weekend for the schedule, as the matches are split evenly, with five being played on Saturday and five being played on Sunday. Much of this has to do with the fact that the Premier League has three teams playing in the Europa League on Thursdays. Stoke's involvement in said tournament is the reason why this match was moved from Saturday to Sunday. It's why Fulham hosts Everton tomorrow and why Spurs are at Blackburn tomorrow. QPR and Chelsea closes the weekend in a West London derby, the first since the Carling Cup two years ago, but the weekend's truly huge game is tomorrow's Manchester derby at Old Trafford. City is top of the table, two points clear of United, but City has not won at Old Trafford since February of 2008.
Saturday's slate of games seems boring by comparison. So much so that Sky Sports's weekend opening match is Swansea's visit to Molineux to face Wolves. Liverpool hosts Norwich City at Anfield in today's late game, leaving only three matches in the normal time slot: Aston Villa hosting West Brom (that's kind of a derby...), Bolton hosting Sunderland, and Newcastle hosting Wigan.