Emirates Stadium, London
Saturday, September 10
10:00 a.m. EDT, 3:00 p.m. BST
Match Officials

Referee: Stuart Attwell
Assistants: Simon Bennett and Andy Halliday
4th Official: Jonathan Moss

This Match, Last Time: Arsenal 2 - 1 Swansea (January 1, 1983)
All-Time in All Competitions: 5 Arsenal wins, 3 Swansea wins, 1 draw
Arsenal's League Form: L-L-D // D-L-L
Swansea's League Form: D-W-W // L-D-D
Arsenal Squad News
Out: Vermaelen (ankle), Wilshere (ankle)
Doubts: Diaby (ankle), Squillaci (calf)
Suspended:
Gervinho and Song (last of three), Jenkinson (one match)
After international breaks, we don't usually get team news until the day before the match, so there's not a lot we know with certainty quite yet about who has come back from their national teams broken. Fortunately, as of press time, there is some news to go with regarding what the squad might look like tomorrow. Unfortunately, most of it isn't very good.
In our weekly review of Jack Wilshere's Twitter feed, we find that he's
been to the dentist
on Tuesday,
had some tea
on Wednesday, and on Sunday, he
waited patiently
for his mother to cook him dinner. He also confirmed that
he'll be out for 2-3 months
as the media began reporting Sunday. I said in the first match preview of this season, almost a month ago, "I have some fears that it could be an Achilles problem and the team doesn't want to call it that after what happened to Vermaelen last year." This hasn't been called an Achilles injury yet, so let's hope he has a speedier recover than the Belgian defender did last year. With Alex Song still serving suspension, we should see Emmanuel Frimpong starting on the pitch and not on the
#BEEEEENCH
. His one match ban was served at Old Trafford. The side is a little light in the holding roles, so I suspect Francis Coquelin could still make the bench.
Speaking of Vermaelen's Achilles injury last year, he's had ankle surgery again, but this time, it's on his other ankle and is
not
a recurrence of that injury. Still, he's slated to now miss six weeks. So, welcome to Arsenal, Per Mertesacker! The German international will likely start alongside Laurent Koscielny.
Kieran Gibbs has returned to full training after recovering from a hamstring injury suffered in the first leg of the Champions League play-off against Udinese, meaning there's a question of whether he will start or if the newly acquired Brazilian left back Andre Santos will. Quite honestly, I haven't the slightest idea whom Arsene Wenger will select. Bacary Sagna has recovered from his illness and played 90 minutes for France during the international break, so he should start at right back (which is great news because Carl Jenkinson serves a one match ban.)
Theo Walcott was rested from England duty on Tuesday with a hamstring problem, but is fit to start Saturday. Sebastian Squillaci is still out with a calf injury, but I would not like to see a situation where he has to play soon anyway. I've heard rumors that Abou Diaby is back in training, but would not expect to see him play yet either. Along with the aforementioned Alex Song, Gervinho is serving the final match of his three match ban.
Squad from:
Szczesny, Sagna, Mertesacker, Koscielny, Gibbs, Frimpong, Ramsey, Arteta, Walcott, Arshavin, van Persie; Fabianski, Djourou, Santos, Coquelin, Rosicky, Benayoun, Park.
Swansea Squad News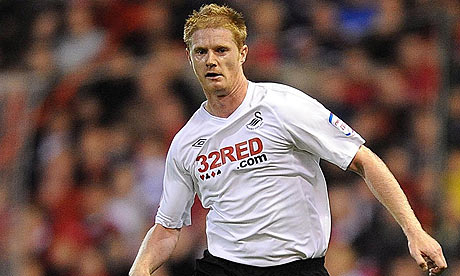 Alan Tate is out indefinitely after breaking his leg in
a golf cart accident. No, really, that happened.
Photo: Guardian.
Out:
Tate (broken leg / bizarre golfing accident)
Doubts:
Bodde (knee), Monk (foot)
For those of you unfamiliar with Swansea's style, it's fairly similar to Arsenal's in that they play a 4-3-3 formation with an offense based in passing and ball possession. They have not yet, however, truly made the jump to the pace of the Premier League and in three matches thus far this season, they have not scored a goal. They have, however, kept two clean sheets (against Wigan and Sunderland) and were 0-0 with Manchester City at halftime before the floodgates opened (or rather, before Sergio Aguero came on.)
Swansea have been spared on many occasions by their new goalkeeper, Michel Vorm, who has dominated and made 11 saves in their 4-0 loss at City. On defense, they have Stephen Caulker on loan from Tottenham and up front they are paced by Danny Graham, another summer signing, who scored 24 goals for Watford last year in the Championship.
In terms of injuries, captain Garry Monk has not played yet this season with a foot injury dating back to January and midfielder Ferrie Bodde is not likely to play (though is on the way back) after numerous recurrences of a knee ligament injury first suffered in 2008 after a challenge from Sebastien Larsson.
Alan Tate, meanwhile, has a broken leg suffered under bizarre circumstances. He was out golfing on Sunday, August 28 and was the passenger in a golf cart, which lost control and crashed. Tate suffered a broken leg in the accident and will miss six months. And you thought Arsenal had back luck with injuries? Tate started the first match of the season in Manchester and played in the Carling Cup against Shrewsbury Town, but did not appear in either of Swansea's 0-0 draws.
Current Form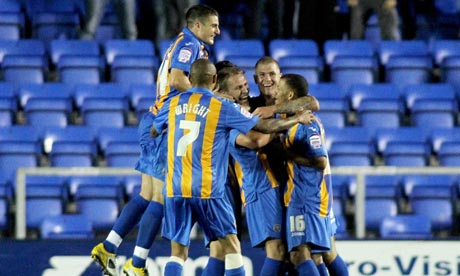 Swansea's form this year includes a shocking loss to
Shrewsbury Town. Hopefully in two weeks, Arsenal's form
doesn't include that, too. Photo: Guardian.
Have you heard that Arsenal's form has been a bit poor since the Carling Cup final in February? And that in their last match, they suffered their worst defeat in 736 years?
Okay, I might be exaggerating that last point. But can you remember off the top of your head the last time Arsenal won back-to-back league matches? I ask that because it's probably easy to remember the last league win (it was against United on May 1.) But, the last time Arsenal won two straight in the league was in February, against Wolves and Stoke (a run which included a win against Barcelona and a drew at Leyton Orient in between.) After that was the Carling Cup final, and we all know what happened there.
Arsenal are winless in their last six league fixtures, the longest winless streak in the Premier League right now. The last time Arsenal went winless in six? October 29 to December 3, 1994. Arsenal won only 13 games that year and finished 12th. If Arsenal do not win this match against Swansea, they will be winless in seven league fixtures for the first time since an eight match spiral from November 21, 1992 to January 9, 1993, a year where they finished 10th (but won both the League and FA Cups.)
Meanwhile, Swansea have scored only one goal all season across all competitions, and even that was an own goal scored for them by Shrewsbury Town in the Carling Cup, in a match where Town pulled off a 3-1 upset anyway (then drew Arsenal in the next round.) They have not scored in the league, and as mentioned above, have lost to Manchester City and drawn 0-0 with Wigan and Sunderland.
Match Facts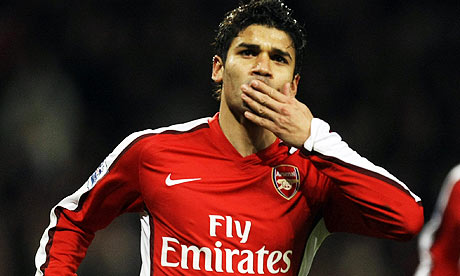 In Arsenal's last match against a Welsh side, Eduardo
returned from his horror leg break to pick up two goals
against Cardiff. Photo: Guardian.
This is Arsenal's first match against a team from Wales since the fourth round of the FA Cup in 2009 against Cardiff City. Arsenal won 4-0 at the Emirates in the replay after a 0-0 draw in Wales.
This will be the tenth all-time meeting between Arsenal and Swansea City and the first in over 28 years. Swansea spent a two year spell in the top flight in 1981/82 and 1982/83. In their first season of play in the old First Division, Swansea won both meetings with the Gunners by 2-0 scorelines. The Swans finished in 6th place that year, two points behind Arsenal for 5th spot. That sixth place finish was Swansea's highest league finish in their history. A year later, the fortunes turned for Swansea; they finished 21st and were relegated. Arsenal won both meetings that season by 2-1 scorelines. Therefore, all four previous league meetings between these two sides have been split, with both sides winning once on the road and once at home.
Arsenal and Swansea have met in five other meetings as cup ties. In the FA Cup, Swansea beat Arsenal 2-1 in 1926 for their only other victory against the Gunners. In 1950, Arsenal won 2-1 and in 1968, Arsenal won 1-0. In 1980, the sides met over two legs in the League Cup. They drew 1-1 in Swansea before the Gunners won the second leg and the tie with a 3-1 win at Highbury.
The Referee
The referee is Warwickshire-based Stuart Attwell; this is the third Arsenal match of his career. Last season, Attwell took charge of a 4-1 Arsenal win over Bolton Wanderers (this same weekend last year) in which he sent off Gary Cahill, but probably could have shown two other Bolton players red for challenges throughout a match over which he never had much control. Cahill was sent off for a challenge on Marouane Chamakh, but Kevin Davies escaped red on two occasions (for a tackle on Jack Wilshere and a head butt on Laurent Koscielny) and Paul Robinson escaped red on a vicious tackle that took out Abou Diaby. He also worked Arsenal's 2-2 draw at West Brom in March.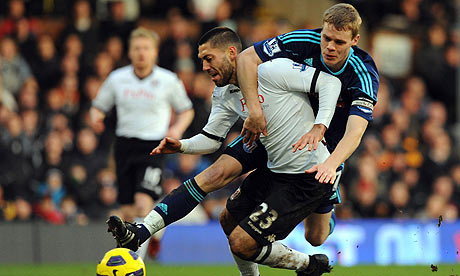 Attwell showed Ryan Shawcross straight red for tackling
American Clint Dempsey American football style.
Photo: Guardian.
For Swansea, Attwell took charge of only one of their matches last season, the FA Cup loss to Leyton Orient (which earned the O's a round against Arsenal.) Alan Tate's (of bizarre golf injury fame) 88th minute own goal led to Swansea's loss in a match where Attwell showed only one yellow card.
Last year, Attwell sent off only two players: Gary Cahill for Bolton against Arsenal was the first and Ryan Shawcross for Stoke against Fulham was the second. Shawcross's red was for a professional foul.
This season, Attwell has taken charge of Wigan's 1-1 draw with Norwich and Aston Villa's 3-1 win over Blackburn Rovers.
Around the League
Joey Barton debuts for QPR against
Newcastle? Who planned that?
Photo: Daily Football News
There is no early match this week, as Sky Sports in England, which holds broadcast rights to that time slot, airs coverage of tennis and the U.S. Open this weekend every year. A match in the Championship, Coventry City and Derby County, airs in the early slot on Sky Sports 2.
This leads to some congestion, as six matches will air in the 3:00 p.m. England / 10:00 a.m. New York City time slot. Fans of Manchester City and Tottenham Hotspur in the United States will be frustrated that their matches won't be televised live here since they play at the same time as Arsenal (on Fox Soccer), Chelsea (on ESPN2), and Liverpool (on Fox Soccer Plus).
So, the rundown of those five other matches being played at the same time as Arsenal v. Swansea: Liverpool is at Stoke, Chelsea is at Sunderland, Spurs are at Wolves, City hosts Wigan, and Everton hosts Aston Villa. Manchester United travels to Bolton in Saturday's late game.
In Sunday's two matches, Norwich hosts West Brom and Fulham hosts Blackburn, while Monday will see QPR host Newcastle in a Joey Barton extravaganza!