Emirates Stadium, London
Tuesday, September 20
2:45 p.m. EDT, 7:45 p.m. BST
Match Officials

Referee: Anthony Bates
Assistants: Matthew Buonassisi and Andrew Laver
4th Official: Dean Whitestone

All-Time in All Competitions: 2 Arsenal wins, 1 draw
Arsenal's Premier League Form: D // D-L-L-W-L
Shrewsbury's League Two Form: W-W-W-W-L-W
Last Year in the Carling Cup

Arsenal: Lost Final to Birmingham City, 2-1
Shrewsbury Town: Lost 2nd Round to Stoke, 2-1
Arsenal Squad News
Injured (excluding obvious first team):
Squillaci, Mannone, Afobe, Eastmond
Ryo Miyaichi will appear at some point,
though he might not start. Or do this.
Photo: Emmanuel Frimpong's ridiculous
Twitter.
Arsene Wenger is expected to mix his young talent with experienced players who might need playing time. Almost certainly, Lukasz Fabianski will start in goal for the first time since January. With Vito Mannone hurt and Manuel Almunia lacking match fitness, Emi Martinez will be the goalkeeper on the bench.
On the back line, Ignasi Miquel will get a start in the middle, thanks to the ongoing calf injury to Sebastien Squillaci. Wenger has said Carl Jenkinson will start on the right. This means Johan Djourou will look to try to regain his form as the other center back. I assume Kieran Gibbs will start on the left, since Andre Santos played 90 minutes at the weekend. Squillaci's injury means Daniel Boateng makes the bench as will Nicholas Yennaris as cover for Jenkinson. I don't suspect a natural left back will appear on the bench, meaning there'll be some shifting should Gibbs get crocked.
In the midfield, Emmanuel Frimpong and Francis Coquelin should start to cover the defenders, while on the wings, Alex Oxlade-Chamberlain will start on the right. I've heard Ryo Miyaichi is not fit to start, but will at least be on the bench. That would give a start to Yossi Benayoun on the left. Marouane Chamakh will supposedly start up front alongside new signing Ju Young Park, as it appears Arsenal will play a 4-4-2.
The more I look at this line-up, however, the more I realize there isn't an obvious choice for captain anywhere in the XI. Normally a guy like Tomas Rosicky would be good to fill that role, but I believe, though am not certain, that he's still out with injury.
Predicted Squad:
Fabianski, Jenkinson, Djourou, Miquel, Gibbs, Frimpong, Coquelin, Chamberlain, Benayoun, Park, Chamakh.
Subs from:
Martinez, Boateng, Yennaris, Aneke, Ozyakup, Miyaichi, Watt
A Little Bit About Shrewsbury Town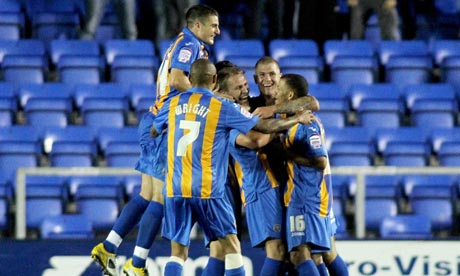 Arsenal's only win in England this year came against a
team Shrewsbury Town has also beaten. Also, I've used
this photo before, so clearly I'm running out of ideas, or
something. Photo: Guardian.
Shrewsbury is in the West Midlands, in the county of Shropshire. It's about 12 miles from the Welsh border. Shrewsbury Town have never been in the top flight of English football, though they did spend the 1980's in the old Second Division.
The Shrews have been close to promotion in recent seasons and have lost two promotion finals at Wembley in 2007 and 2009. They are off to a strong start this season and currently sit third in League Two (which would mean automatic promotion to League One.)
Current Form
I don't believe I need to go into great detail about Arsenal's form at the moment. You all know how bad it's been.
So, let's talk about how Shrewsbury Town is faring this season. The Shrews took two points from their first three matches of the season, but since, have won five of six in league play. In that time, they have climbed to third in the table, thanks to a 3-2 win over Port Vale at the weekend.
Match Facts
Arsenal hosted Farnborough Town in
an "away" match in 2003, the last
time they faced a team below the
third tier.
Arsenal and Shrewsbury Town have never met in league competition and their head-to-head history is limited to two FA Cup ties in 1968 and 1991. In the third round of the 1968 FA Cup, Arsenal and Shrewsbury drew 1-1 at Gay Meadow before Arsenal won the replay at Highbury three days later 2-0. Arsenal was knocked out two rounds later in a replay against Birmingham City. In 1991, the sides met in the fifth round and Arsenal won on the road 1-0. They would go on to lose the semifinal to Spurs at Wembley.
Shrewsbury Town have already beaten a top flight side in this competition, having knocked Swansea City out in the last round. They also beat Championship side Derby County in the first round on the road. Prior to this season, Shrewsbury's last match against a top flight side was against Stoke in the League Cup last year, a 2-1 loss. Before the win against Swansea, Shrewsbury's last win against a top flight side was against Everton in the FA Cup in January of 2003.
The last time Arsenal faced a team this low in the English football pyramid was their 2003 FA Cup fourth round tie against conference side Farnborough Town (who don't exist in that form anymore, having been liquidated and reformed as Farnborough). Farnborough was drawn at home, but for safety concerns, played the match at Highbury. Arsenal won 5-1. A round earlier, Arsenal played fourth tier Oxford United at Highbury and won 2-0.
The Referee
The referee is Staffordshire-based Anthony Bates. He was born in Stoke. Bates, a non-select group official, has split time between the Championship and League One this season. The only Premier League team he worked a match for last year (in the Carling Cup) is no longer even a Premier League team: he took charge of Blackpool's loss at Milton Keynes. Suffice it to say, this might be the biggest appointment of his career.
Anthony Bates works his first Arsenal match today.
He's from Stoke. Do with that information what you will...
(Panic, I don't know?)
In seven matches this season, Bates has shown 18 yellow cards and no red cards. Bear in mind, cards accumulated in the Carling Cup count against domestic totals. A straight red card picked up in this match would mean suspension against Bolton, Spurs, and Sunderland.
The Rest of the Third Round
There's a number of very interesting match-ups among the 16 total in the Carling Cup Third Round. Today, Manchester United faces Leeds United for the first time since Leeds's upset of United in the FA Cup two years ago. Tomorrow sees a West London derby as Chelsea hosts Fulham as well as Championship leaders Brighton & Hove Albion host Liverpool. Title holders Birmingham City travel to Eastlands to play Manchester City.
Elsewhere today, Aston Villa hosts Bolton, Nottingham Forest hosts Newcastle, Stoke hosts Spurs, Wolves host Millwall, Burnley hosts Milton Keynes Dons, Blackburn hosts Leyton Orient, Crystal Palace welcomes Middlesbrough to South London, and Aldershot Town hosts Rochdale. The other matches tomorrow sees Everton host West Brom, Southampton hosts Preston North End, and Cardiff City hosts Leicester City.