Emirates Stadium, London
Wednesday, September 28
2:45 p.m. EDT, 7:45 p.m. BST
Referee: Carlos Velasco Carballo (Spain)
Head-to-Head: 1 Arsenal win, 1 Olympiacos win
Arsenal's European Form: W-W-L // W-W-D
Olympiacos's European Form: L // W-W-W-L // L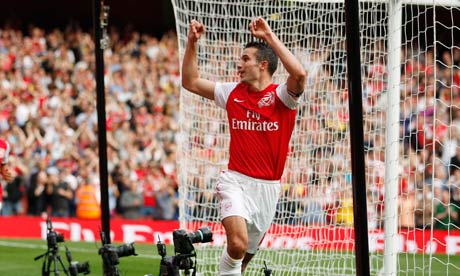 Corner turned? Not yet. Let's take it one match at a time,
shall we? Photo: Guardian.
The last time we started to talk about this team "turning the corner," they collapsed and burned at Ewood Park, so I think we've all learned that lesson. It's going to take more than a 3-0 home win against Bolton Wanderers to right this ship. After a draw in what was arguably, on paper, Arsenal's most difficult match of the group stage at Dortmund two weeks ago, Arsenal will today play, on paper, their easiest match of the group stage, at home against Olympiacos, the champions of Greece.
Unfortunately, matches are not played on paper. As far as I can tell, they are played inside of multiple television screens at the Blind Pig. But, I digress...
With the North London derby looming in four days, Arsenal will look to continue their positive momentum going forward. The pain of conceding late at Dortmund will sting much more if Arsenal drops points at home. You simply must win your home games in the round robin stage to ensure qualification from the group. In addition, this team already has a fairly fragile psyche; with Tottenham on the horizon, Arsenal can't afford to be damaged any further. It's three points or bust today. After that, we can start talking about Sunday.
Arsenal Squad News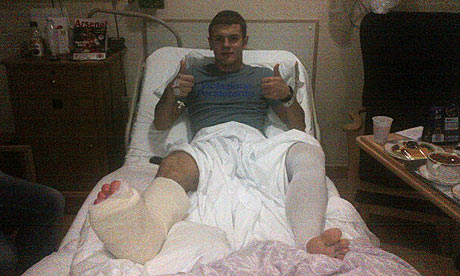 At least his thumbs are okay, so he can play more FIFA.
Photo: Guardian, via Jack's Twitter.
Out:
Gervinho (thigh), Koscielny (ankle), Walcott (knee), Djourou (hamstring), Benayoun (thigh), Wilshere (ankle), Vermaelen (ankle), Diaby (ankle), Squillaci (calf)
Arsenal nearly has enough players out injured to fill out a starting line-up; all four center backs they started the season with are unfit to play today's match. In addition to the already injured Thomas Vermaelen and Sebastien Squillaci, Johan Djourou is still within his "week" out with a hamstring strain and now Laurent Koscielny will miss this match with an ankle problem.
Koscielny is one of three players who picked up an injury against Bolton at the weekend; Gervinho will also miss the match with a mild thigh injury, and Theo Walcott is not fit to return from the knee strain he picked up in added time that forced his removal from the match. All three are expected to be fit for the North London derby on Sunday, which seems to indicate that a lot of this is precautionary. So, that's encouraging. But perhaps I'm just typing that to delude myself into feeling better.
Add to this the fact that the news regarding Jack Wilshere gets more bleak with each passing week, as he is now expected to be out until February, having undergone successful surgery on his ankle last week. After he came out of the match against the Red Bulls in late July, Jack originally said he'd be fit "
in a few days
." But, by now we all know what a "few days" really means in Arsenal time.
The injury to Koscielny leads to a selection conundrum for Arsene Wenger. With, as mentioned, four center halves out for this match, do you start a fairly untested but natural player in the position (in Ignasi Miquel) or a player with more experience who does not usually play the role (in Alex Song)? I'd personally suspect the latter.
Predicted Makeshift XI:
Szczesny, Sagna, Mertesacker, Song, Gibbs, Frimpong, Ramsey, Arteta, Rosicky, Arshavin, van Persie.
Olympiacos Squad News
Out:
Fetfatzidis (abdominal), Maniatis (groin), Fejsa (groin), Potouridis (groin)
One of Olympiacos's best offensive players, 20-year-old Ioannis Fetfatzidis, has been out since September 12th with an abdominal problem. His speed and skill have earned him the nickname "the Greek Messi." Giannis Maniatis and Ljubomir Fejsa have been out since the 17th.
Giannis Potouridis has returned to individual training since picking up a groin injury on the 16th, but is not expected to feature. Francisco Yeste has not yet played a league match, but could feature today.
Olympiacos has Olof Mellberg on their roster. The center back played 232 matches for Aston Villa from 2001 to 2008 and scored the first competitive goal in Emirates Stadium history.
Current Form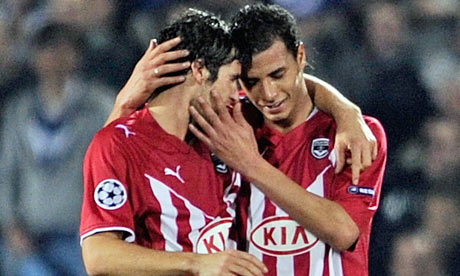 Chamakh's insurance goal ended Olympiacos's run in
2010. Looks like his hair was less spiky then.
Photo: Guardian.
The contrast between Arsenal's home form and away form in the Champions League is night and day. While they have struggled outside of England, the Emirates has been a fortress in European competition. They beat Udinese 1-0 there earlier this year in the qualifier. Last year, Arsenal won their three group stage home matches 6-0, 5-1, and 3-1, before then beating Barcelona 2-1 in the first leg of the Round of 16. The year before, they won 3-1 over Celtic in the qualifier, then won 2-0, 4-1, and 2-0 in group play, then beat Porto 5-0 and drew Barcelona 2-2 in the quarterfinal. Their last home loss in Europe came against Manchester United in 2009, and you'd have to go back to a 3-0 loss to Inter Milan in 2003's group stage for their last home loss against a team from outside of England.
Olympiacos started group play this year with a 1-0 home loss to Marseille. They have two wins from two in their Greek league matches this season, after winning the title last year. In Europe last year, Olympiacos participated in qualifying for the Europa League, where they lost in a play-off against Maccabi Tel-Aviv on away goals. The year prior, they advanced in the Champions League, along with Arsenal, from Group H. In the Round of 16, they were one away goal shy of advancing past Bordeaux, as they trailed in the second leg 2-1 on aggregate, but level in the tie-breaker. Had Olympiacos scored late, they would have been through on away goals, but Bordeaux scored in the 88th minute to seal the tie. That goal scorer? Marouane Chamakh.
Match Facts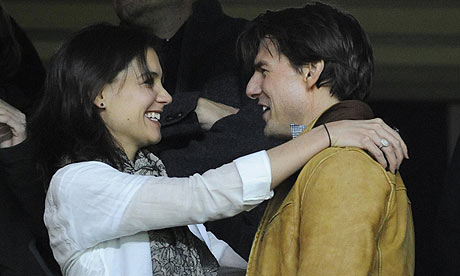 Tom Cruise, with his wife, after his only appearance for
Arsenal, against Olympiacos in December 2009.
Wait, something's wrong here... Photo: Guardian.
Arsenal and Olympiacos met in the group stage just two years ago, with both sides splitting the results. On matchday two, the sides met at the Emirates (just as they are this year) with Arsenal winning 2-0. Arsenal controlled the match's possession and tempo, but were stifled for most of the match by the Olympiacos defense. The breakthrough finally came in the 78th minute with a goal from Robin van Persie. Andrei Arshavin added the insurance goal in the 86th.
By the time the sides met in the reverse fixture, it was matchday six, and Arsenal had already won the group. For that reason, Arsene Wenger fielded what was essentially a Carling Cup-type squad, using the opportunity to blood some youngsters while also providing a run-out for more experienced players who needed time on the pitch. It was the youngest squad ever to start a Champions League match. Indeed, the starting XI was an interesting mix, featuring Lukasz Fabianski in goal and a back four of Kerrea Gilbert (now at Yeovil Town), Mikael Silvestre (who wore the captain's armband!), Kyle Bartley, and Thomas Cruise (still a free agent after being released from Arsenal this summer). The other six were Aaron Ramsey, Alex Song, Jack Wilshere, Theo Walcott, Carlos Vela, and Fran Merida. Olympiacos won 1-0, thanks to a goal from Leonardo just after the halftime restart. Arsenal used only one substitution in that match, giving a debut to Gilles Sunu in the 76th minute; he was brought on for Wilshere.
Prior to 2009, the last time Arsenal faced a Greek side in Champions League play was the group stage in 2004/05, when they drew Panathinaikos twice. Arsenal are unbeaten at home against Greek competition, winning five and drawing two. Olympiacos have lost all nine matches they've played on English soil, having only scored once, in a 3-1 defeat at Liverpool.
The Referee
The match's crew of officials is from Spain and the referee is Carlos Velasco Carballo. He was at the center of last year's Europa League Final in Dublin, between Porto and Braga. He also took charge of matches involving a number of other English sides in last year's Champions League, including: Chelsea's 2-0 win at Spartak Moscow, Tottenham's 3-3 draw at Twente, Manchester United's 2-1 win over Marseille in the round of 16, and United's 2-0 win over Schalke in the first leg of the semifinal.
He has worked two matches in La Liga this year, including last week's 2-2 draw between Barcelona and Valencia. In those two matches, he has shown eight yellow cards and one red.
Around Europe
Basel had United on the ropes for a while. That was fun.
Photo: Daily Mail.
In a round-up of yesterday's matches, an early match saw Inter Milan blow a 2-0 lead, but go on to beat CSKA Moscow anyway, 3-2. As for the Manchester sides, United blew a 2-0 lead, trailed 3-2, then scored in the 90th to draw 3-3 at Old Trafford, while Manchester City were outclassed by Bayern Munich, 2-0 in Germany. Elsewhere around Europe, Lyon beat Dinamo Zagreb 2-0, Real Madrid easily handled Ajax 3-0, Benfica picked up a 1-0 win in Romania putting them at the top of United's group, Napoli beat Villarreal 2-0, and Lille played to a 1-1 draw in Turkey with Trabzonspor.
Elsewhere today, the other Group F match sees Marseille hosting Dortmund, while Chelsea is at Valencia. Also, Bayer Leverkeusen hosts Genk, Porto travels to Russia to face Zenit, Cypriot side APOEL is at Shakhtar Donetsk in Ukraine, AC Milan is hosting Plzen, and Barcelona travels to Belarus (glamorous!) to face BATE Borisov.