Saturday, August 13
12:30 p.m. EDT, 5:30 p.m. BST
Match Officials

Referee: Peter Walton
Assistants: Andy Garrat and Ron Ganfield
4th Official: Nigel Miller

This Match, Last Year: Newcastle 4 - 4 Arsenal
All-Time in All Competitions: 65 Arsenal wins, 66 Newcastle wins, 37 draws
Arsenal's League Form: D-L-W-L-L-D
Newcastle's League Form: D-D-L-W-D-D
Arsenal Squad News
Out:
Wilshere (ankle), Diaby (ankle)
Jack Wilshere runs like hell from a defender trying to hug.
him. Now, he's hurt, too, or something. Photo: Daily Mail.
There is some good news on the injury front, which is a rarity, but the fact that there is anything I can call an "injury front" before the first match of the season even starts is preposterous to begin with. Many of the players who left injured from last week's final pre-season friendly with Benfica will return to the squad. Robin van Persie (ankle), Kieran Gibbs (thigh), and Thomas Vermaelen (back) are all set for comebacks, as is Theo Walcott, who will return from an ankle injury more quickly than expected.
It's bad news for Jack Wilshere, though, as his ankle injury will take more time than originally thought, and his foot has been placed in a boot. They're calling it an "inflamed ankle," but I have some fears that it could be an Achilles problem and the team doesn't want to call it that after what happened to Vermaelen last year. In terms of the others missing from the line-up, Abou Diaby is still recovering from surgery on his ankle.
There were reports of injuries suffered by Aaron Ramsey, Andrei Arshavin, and possibly Tomas Rosicky on international duty, but Arsenal have claimed these rumors are false.
Predicted Starting XI:
Szczesny, Sagna, Vermaelen, Koscielny, Gibbs, Song, Ramsey, Rosicky, Gervinho, Walcott, van Persie.
Newcastle Squad News
Out:
Ben Arfa (ankle)
Doubts:
Barton (disciplinary)
The Toon have only one player out through injury and that's Hartem Ben Arfa. The Frenchman, who missed much of last season with a double fracture in his leg, is now sidelined for five to six weeks with an ankle injury to that same leg, suffered in the pre-season tour of the United States against Sporting Kansas City.
Mike Williamson, Danny Guthrie, and Shane Ferguson have passed fit, Jose Enrique has been sold to Liverpool, and we'll see if Joey Barton is selected to the squad by manager Alan Pardew after his choice words about the Newcastle boardroom this month.
Newcastle brought in five forwards this summer, including Demba Ba from West Ham United and Gabriel Obertan from Manchester United, though they sold Kevin Nolan to the Hammers the day before the Ba deal.
Last Year's Form
Last season's collapse went from "annoying draws" to
"painful losses" starting at Bolton on Easter.
Photo: Daily Mail.
Last year was a tale of two seasons for the Gunners, with a solid start marred by a dismal finish. Arsenal came out of the gate a year ago by scraping a 1-1 draw at Liverpool and finished the opening weekend in 8th place, but behind the power of a second week 6-0 win over Blackpool at the Emirates, they launched themselves into second, where they would sit for most of the season until April. At the start, Arsenal sat in the second position behind a Chelsea side that surged strong out of the gate. By November, when Chelsea began dropping points, Arsenal began to struggle as well, and by December, both sides were pipped for the top spot by a Manchester United squad that would go unbeaten through into February in league play.
At the time of the Carling Cup final, Arsenal sat four points out of first place. Over the final 11 matches of the season, they won just twice, but managed to hold onto second place through to mid-April, after a 3-3 draw at Tottenham saw them slip behind a surging again Chelsea squad into third. Then, the dropping of points turned from draws to losses, and by the final week of the season, Manchester City squeaked into third spot, forcing Arsenal to now attempt to qualify for Champions League group play this season.
An up and down first few months of the season for Newcastle saw the Toon fall to as low as 15th (after starting in 17th after a 3-0 loss the opening week) and rise to as high as fifth in the table on three separate occasions, the last time of which started with a 1-0 win over Arsenal in early November. After winning only one in an eight game span, Newcastle fell to 13th at the start of the New Year. From that point on, Newcastle sat fairly comfortably mid-table, sitting as high as seventh after a draw with Tottenham on January 22 and as low as 12th, where they would finish the the season after two consecutive draws to close the year. They won just three of their final 17 league matches.
Match Facts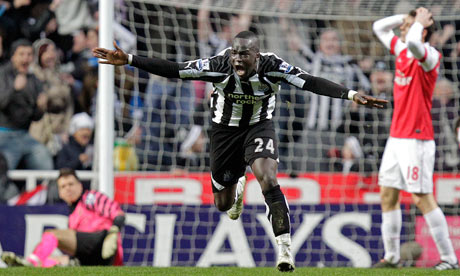 This match last year: A thing that happened.
Photo: Guardian.
Arsenal are unbeaten in ten of their last eleven matches against Newcastle, across all competitions, though last year, their only win came in the Carling Cup. The first meeting of the season between the two sides came in the fourth round of the Carling Cup last October. Arsenal took a 1-0 lead in first half injury time after a goal line scramble led to a preposterous own goal from goalkeeper Tim Krul. In the second half, Arsenal picked up a brace from Theo Walcott and another goal from Nicklas Bendtner to win 4-0 at St. James' Park.
A week and a half later, both sides met at the Emirates for a league match, which Newcastle won 1-0 thanks to an Andy Carroll goal just before half time, the result of, surprise surprise!, poor defending on a set piece. My memory on this goal is a little fuzzy, though I believe Fabianski jumped too late to defend after Carroll beat his man.
In early February, Arsenal and Newcastle met again at St. James' Park, and as in the Carling Cup fixture in October, Arsenal took a 4-0 lead (this time, all before halftime.) A brace from Robin van Persie, a first minute goal from Theo Walcott, and even a header from Johan Djourou gave Arsenal a comfortable lead. Then, the unthinkable started to happen. Djourou left hurt and Abou Diaby was sent off. Newcastle got a penalty, converted, and were on their way as the wheels fell off the Arsenal wagon (and then the wagon exploded in a fiery disaster.) 4-4.
The Referee
The referee is Northamptonshire-based Peter Walton. Walton took charge of only two Arsenal matches last season, both Gunner wins: 3-0 at Birmingham City on New Year's Day and 1-0 at home against Stoke in late February. Walton also worked Arsenal's win at Stoke City in February of 2010, when he sent off Ryan Shawcross for his leg-breaking tackle on Aaron Ramsey. For Newcastle last season, Walton only took charge of one match, a 3-0 loss at Liverpool in early May.
In 33 matches last year, Walton showed 110 yellow cards and 9 red cards and twice sent off two different players in the same game (one per team in both instances.)
Around the League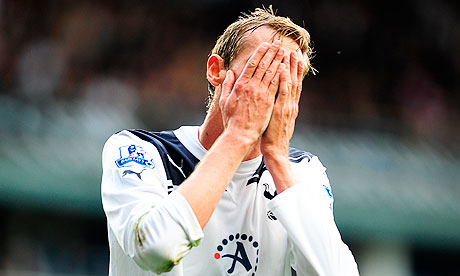 Spurs v. Everton has been postponed. Here's an image
of a distraught giraffe on ice skates from that fixture
last season. Photo: Guardian.
There's no early kick-off match in England this week, so the Premier League season will kick off with five matches being played in the standard time slot of 10 a.m. Eastern (3:00 p.m. in England.) Due to the situation in England, Tottenham Hotspur's opening match against Everton has been postponed. All nine other fixtures are expected to go ahead as scheduled.
That means to start the season, Liverpool hosts Sunderland at Anfield, QPR returns to the Premier League hosting Bolton at Loftus Road, while Norwich's return to the top flight starts with a trip to Wigan. Fulham hosts Aston Villa in the other fixture taking place in London and Blackburn hosts Wolves at Ewood Park. Arsenal's late kick-off at Newcastle is the final match on Saturday.
Sunday sees last year's top two start on the road: Chelsea begins the campaign with a trip to Stoke City (where they drew 1-1 last year) while Manchester United starts with a trip to The Hawthorns to face West Bromwich Albion. Monday's final fixture of the opening weekend sees Manchester City host newcomers Swansea at Eastlands.
The reverse of these fixtures will be played the weekend of March 10 and 11.