Szczesny: As pissed off as you and I. Photo: Daily Mail.
Craven Cottage, London
Sunday, May 22
11:00 a.m. EDT, 4:00 p.m. BST
Match Officials

Referee: Martin Atkinson
Assistants: Jake Collin and Adam Watts
4th Official: Michael Oliver

This Match, Last Year: Fulham 0 - 1 Arsenal
Reverse Fixture: Arsenal 2 - 1 Fulham
All-Time in All Competitions: 34 Arsenal wins, 7 Fulham wins, 7 draws
Arsenal's League Form: D-D-L-W-L-L
Fulham's League Form: L-D-W-W-L-W
Arsenal Squad News
Injured: Fabregas (thigh), Fabianski (shoulder)
Doubts: Clichy (hamstring), Nasri (hamstring), Koscielny (thigh), Djourou (ankle), Diaby (calf), Rosicky (thigh)
One more appearance from Jens in goal? Possible, but I
kind of doubt it. Don't tell him I said that, he may punch me
in the face. Photo: Daily Mail.
The squad news has not changed very much in the past week, meaning we may see the same XI that looked disinterested against Aston Villa last week. Wojciech Szczesny will likely start in goal, though there are many that may want to see Jens Lehmann make an appearance one more time. Robin van Persie will start up front. That is almost certain.
The rest of the squad has some question marks. On the back line, there are doubts about Gael Clichy, Laurent Koscielny, and Johan Djourou meaning we may see the same porous back four as last week: Kieran Gibbs, a rusty Thomas Vermaelen, Sebastien Squillaci, and Bacary Sagna.
Cesc Fabregas has been ruled out, so Aaron Ramsey should start again in his place. The midfield should also be filled with the usual suspects of Alex Song and Jack Wilshere. Theo Walcott will start on the right wing, and on the left, it's Samir Nasri if he passes fit and Andrei Arshavin if he does not.
Predicted squad: Szczesny, Sagna, Vermaelen, Squillaci, Gibbs, Song, Wilshere, Ramsey, Arshavin, Walcott, van Persie.
Fulham Squad News
Injured: Dembele (knee), Duff (Achilles), Kamara (back)
Suspended: Baird (second of two, abusive gesture)
Fulham have lost Moussa Dembele to a knee injury, in addition to the already out Diomansy Kamara (who scored at the Emirates in December, but was out on loan to Leicester this winter) and Damien Duff, who were out for the year already with back and Achilles injuries, respectively. Meanwhile, as Simon Davies returns from injury, Chris Baird misses out through suspension, having been retroactively banned after an obscene gesture towards referee Lee Mason during Fulham's recent loss to Liverpool.

Predicted squad: Schwarzer, Pantsil, Hangeland, Senderos, Salcido, Davies, Sidwell, Murphy, Gudjohnsen, Dempsey, A. Johnson.
Current Form

Arsenal's current form = Frowny face. Photo: Daily Mail.
Arsenal's downward spiral first cost them a shot at the league title this season and now, it appears it will cost them automatic qualification to the Champions League group stage next season. On the day of the Carling Cup Final, Arsenal had a six point lead on Manchester City (for second place) with a game in hand. Since then, Arsenal have won twice in 10 league matches and 12 across all competitions. They have now lost three of their last four. They have been passed in the table by both Manchester City and Chelsea (who were fifth in February.) Arsenal have 19 league wins this season. They have been held below 20 league wins only once in the last 13 years, in 2006/07. It might be a blessing that the free-fall has resulted in a tumble to fourth place, as now having to qualify for the Champions League brings about a bit of a tangible punishment for Arsenal's complacency of late, and may provide more of an impetus to sort things out this summer. One hopes.
I should point out that while Arsenal might be in the qualifying round with the likes of Bayern Munich and Lyon, because the drawings are seeded, the odds of Arsenal playing a top class side like that is practically nil.
As for Fulham, they have a chance to finish in 7th place, which would tie their highest ever Premier League finish from two years ago. The Cottagers have won three of their last four and have only lost three league matches since the start of February. All of Fulham's wins this season have come against sides currently below them in the table. They have gotten only four draws against the current top seven. Fulham could find themselves in the Europa League next season as a result of their Fair Play ranking.
Match Facts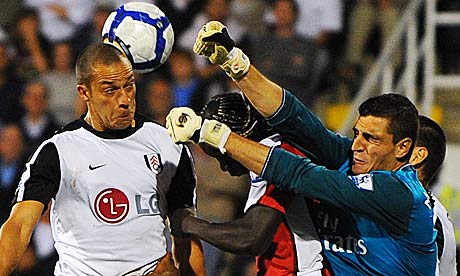 In this fixture last year, Vito Mannone was kicking ass
and taking names. Photo: Guardian.
Arsenal won the reverse fixture 2-1 on December 4. Samir Nasri had a brace, scoring both goals on brilliant individual efforts; both are strong candidates for Arsenal's goal of the season. It took 75 minutes for Arsenal to break the 1-1 deadlock that was created at the half hour mark when Fulham scored easily after Squillaci and Koscielny horrendously collided with each other. At the time, Arsenal went top of the league. They have not been back to the summit since.
Arsenal took six points from Fulham last season and, like this year, played the Cottagers on the final day of the season. That match was a 4-0 win at the Emirates. Andrei Arshavin and Robin van Persie spotted Arsenal a 2-0 lead before the half hour mark, a Chris Baird own goal made it three by the half, and Carlos Vela's only goal of the year in the 84th sealed it. In this fixture last year, played in late September of 2009, Robin van Persie scored in the 52nd minute to edge Arsenal ahead in a tense 1-0 win, which saw goalkeeper Vito Mannone star as the man of the match.
All seven of Fulham's all-time wins against Arsenal have come at Craven Cottage. Their most recent win over Arsenal came in August of 2008, when Brede Hangeland scored a 21st minute winner after going unmarked by William Gallas on a corner in a 1-0 Fulham victory. That was Fulham's second win over Arsenal since 1966.
The Referee
The referee is West Yorkshire-based Martin Atkinson. Last week, Atkinson took charge of the FA Cup Final. Atkinson is tied for showing the most red cards (12) out of any referee in the top flight this season, while Fulham is the only team in the league that has not had a player sent off this year.

Arsenal have seen a lot of Atkinson this year and two of the six red cards they have received have been delivered by him. He has taken charge of Arsenal's 1-1 draw at Liverpool (in which Laurent Koscielny was sent off,) the 2-1 win over Birmingham City (in which Jack Wilshere was sent off,) the 2-0 Carling Cup win over Wigan, the 1-0 Carling Cup Semi-Final loss at Ipswich Town, and the 3-3 draw at Tottenham.

For Fulham, Atkinson has taken charge of a 1-0 loss at Chelsea, a 3-0 win over West Brom, and a 3-0 win at Sunderland.

Last week's referee, Michael Oliver, who was widely regarded as in over his head at the Emirates (for the second time this year,) is the fourth official.
Around the League
As is customary, all ten Premier League matches start simultaneously on the final day of the season, to prevent match fixing. These are the reverse fixtures of those played the weekend of December 4-6.
Arsenal will have to keep an eye on Manchester City, now that they have been pipped for third place in the league. City travel to the Reebok to take on a Bolton side that has won once in their last six across all competitions (you may recall that Bolton win, as it was against Arsenal.)
Charlie Adam runs away from the hug the referee wants
to give him. Photo: Daily Mail.
By far the most enthralling story line of the weekend is the battle to avoid relegation. With West Ham already assured last place, there are two tickets to the Championship left available and five sides desperately avoiding receiving them. Blackpool and Wigan sit in those two drop zone places right now; the former travels to Old Trafford to play a Manchester United side with nothing to play for, while Wigan travels to Stoke City.
Meanwhile, level with Blackpool and Wigan on points is Birmingham City, just one goal ahead of the Tangerines on the tie-breaker of goal difference. Birmingham is at Tottenham Hotspur, who will clinch a Europa League berth with a win, though they may not want it. Just one point ahead of the drop zone tie-break are Wolves and Blackburn, who play each other at Molineux.
The rest of the matches carry a lot less glamour: Aston Villa hosts Liverpool, Everton hosts Chelsea, Newcastle hosts West Brom, and West Ham hosts Sunderland.