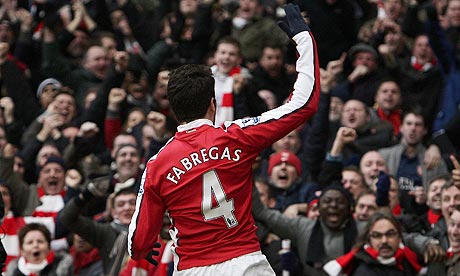 Cesc Fabregas turned in a brilliant cameo performance in this
fixture last year... then re-injured his hamstring
and missed a month. All photos courtesy The Guardian.
Emirates Stadium, London
Sunday, May 15
11:00 a.m. EDT, 4:00 p.m. BST
Match Officials:

Referee: Michael Oliver
Assistants: Ron Ganfield and Bob Pollock
4th Official: Andy D'Urso

This Match, Last Year: Arsenal 3 - 0 Aston Villa
Reverse Fixture: Aston Villa 2 - 4 Arsenal
All-Time in All Competitions: 72 Arsenal wins, 64 Aston Villa wins, 44 draws
Arsenal's Recent Form: W-D-D-L-W-L
Aston Villa's Recent Form: D-W-W-D-L-D
Arsenal Squad News

Injured:
Koscielny (thigh), Diaby (calf), Rosicky (thigh), Fabianski (shoulder)
Doubts:
Fabregas (thigh), Nasri (hamstring)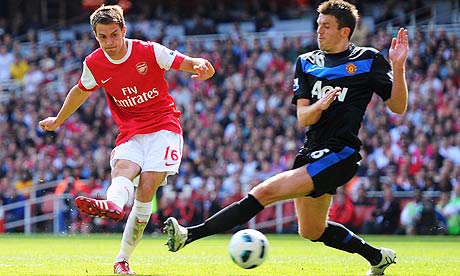 Ramsey may have scored against United, but he could not
get Welsh vengeance against Stoke City. I... ummm, I'm not
sure what Welsh vengeance would entail... but I'm sure it
would've been really awesome.
VERMAELEN IS BACK. That's something, right?
Of course, Arsenal, at times, looked so uninterested in playing last week at Stoke, it's hard to figure out what's going to happen in this, the final home match of the 2010/11 season. Cesc Fabregas and Samir Nasri both face late fitness tests and could return to the side this week. As we saw last week, the team sorely missed their creative spark against a side that was intent to frustrate in the middle.
Laurent Koscielny picked up a thigh injury last week, meaning it is more than likely that Thomas Vermaelen will start in an Arsenal kit for the first time since August 28. Gael Clichy also appears set for a return to the line-up; Kieran Gibbs was less than spectacular at left back last week. If Fabregas and Nasri should miss out, we'll see another start for Aaron Ramsey and Andrei Arshavin in the midfield. We're all a little sad Ramsey could not get any revenge on Stoke last week.
Arsenal still remains threatened by Manchester City for third place, and England's final Champions League automatic group stage qualification slot. City trails the Gunners by two points with two matches for both to play. City plays Stoke and Bolton, Arsenal plays Villa and Fulham.
Predicted squad: Szczesny, Sagna, Vermaelen, Djourou, Clichy, Song, Wilshere, Ramsey, Arshavin, Walcott, van Persie.
Aston Villa Squad News

Injured:
Clark (hamstring)
The Villans do not have many injury concerns, with Gabriel Agbonlahor returning from illness, and Jean Makoun returning after missing two games from a dead leg. Ciaran Clark, however, is out with a hamstring injury. Clark had a brace against Arsenal in November.
Predicted squad: Friedel, Walker, Dunne, Collins, L. Young, Reo-Coker, Petrov, A. Young, Downing, Agbonlahor, Bent.
Current Form

Since a certain Sunday at Wembley that shall remain nameless, Arsenal have won twice in nine league fixtures and twice in 11 across all competitions, a streak which includes five draws. At home, Arsenal have been good at not losing, but they haven't been great at winning either. Before their 1-0 win over United two weeks ago, Arsenal had drawn three straight at home (all during the same run since the Carling Cup final.) Arsenal have only conceded one goal at the Emirates in league play since Louis Saha's controversial offside goal in early February; unfortunately, it was Dirk Kuyt's late penalty equalizer for Liverpool. Arsenal have not lost at home since November 20.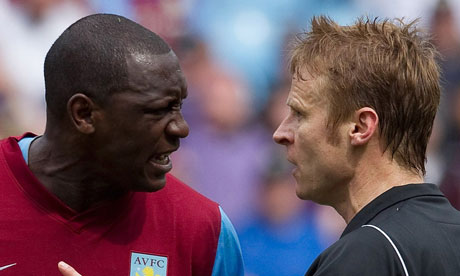 Nobody knows how Emile Heskey didn't get sent off last
week in Villa's 1-1 draw with Wigan.
Aston Villa have had a dreadful season, kick started by the shock departure of Martin O'Neill as manager in August. With two games to play, Villa are technically not mathematically assured of top flight status next year, though there would have to be a nine goal swing in goal difference for them to be relegated. Villa sits six points above the drop zone with two games to play. Still, the fact that you can say that about a team like Aston Villa, who has flirted with European football over the past few seasons, is shocking.
Villa have picked up two points from their last three matches and have won only three of their last 12 league fixtures. Villa's only three road wins this season have come against relegation candidates: Wolves, Wigan, and West Ham. They have dropped 26 points from winning positions this season, more than any other side in the league.
Match Facts


Arsenal are unbeaten in their last four against Aston Villa, winning twice and drawing twice. Arsenal's last loss to the Villans came at the Emirates, 2-0 on November 15, 2008. Before this fixture last year, Aston Villa were the last Premier League side not to have lost a match at Arsenal since the opening of Emirates Stadium. The 2-0 Arsenal loss in 2008 stands as Arsenal's only loss against Aston Villa in their last 24 league meetings, a streak which dates back to a 3-2 loss at Villa Park in 1998.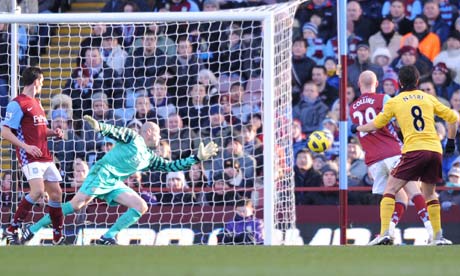 Samir Nasri scores against Villa in November, ensuring
that his chant slowly starts catching on at the Blind Pig.
In the reverse fixture, Andrei Arshavin and Samir Nasri scored in quick succession to give the Gunners a 2-0 lead at halftime. Ciaran Clark pinged one back for Villa, with a shade of controversy surrounding John Carew standing in an offside position at the time of the strike before Marouane Chamakh restored Arsenal's 3-1 lead (Chamakh has only scored in the FA Cup replay against Leyton Orient since.) Clark scored another for Villa to cut it to 3-2 before Jack Wilshere's first league goal for Arsenal in injury time sealed a 4-2 win in Birmingham.
Arsenal took four points out of a possible six from Aston Villa last year. This fixture last year was Arsenal's Boxing Day round and after a 0-0 first half, a 20-minute cameo appearance from Cesc Fabregas off the bench jump started a 3-0 victory. But, Cesc did more harm than good, re-injuring his hamstring in the process, forcing him to miss a month of action. That month included the reverse fixture, a dreadful 0-0 draw at Villa Park.
The Referee


The referee is Northumberland-based Michael Oliver. Oliver has only taken charge of one Arsenal match this season and in his career; it was Arsenal's first loss of the season as they put forth a dreadful effort, fell behind 3-0 at home, and eventually lost to West Bromwich Albion 3-2 in late September. Oliver showed seven yellow cards in that match; that's the most he has shown in a single game this season.
Oliver has taken charge of two Aston Villa matches, both Villa losses in which they failed to score. The first was a 2-0 loss at Blackburn on November 21 and the second was a 4-0 loss at Manchester City on December 28.
This is Oliver's first season in the Premier League. At season's start in his first match, he became the youngest referee in Premier League history. Oliver has also gone 16 matches across all levels without showing a red card, a streak dating back to November.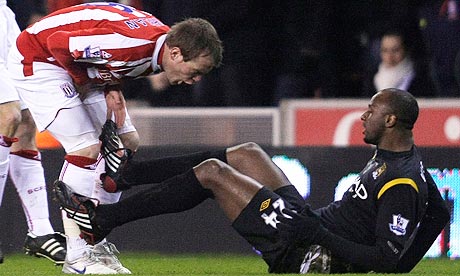 I wish both teams could lose the FA Cup Final.
Around the League


This weekend's FA Cup Final (moved earlier in the season because the Champions League Final is also at Wembley) means an interesting arrangement of fixtures that sees four matches in Saturday's early slot and four matches in Sunday's late slot. It is also coincidental that Manchester City and Stoke City would have played each other anyway this weekend, meaning all teams are still in action and the league fixture between them is moved to Tuesday.
With the FA Cup Final at 10:00 a.m. on Saturday, all of the other Saturday fixtures will be played at 7:45 a.m. Manchester United needs only a point to win the league and they can start the weekend with said point as they play Blackburn Rovers at Ewood Park. Meanwhile, Blackpool, one point from safety, hosts Bolton, Sunderland hosts Wolves, and West Brom hosts Everton in Saturday's least relevant clash.
On Sunday, Chelsea hosts Newcastle United in the early match, while three other matches take place in the 11:00 a.m. slot simultaneously to Arsenal: Liverpool hosts Spurs in a battle for who wants the Europa League spot (nobody?), Birmingham (just three points above the drop zone) hosts Fulham, and Wigan hosts West Ham in what might actually be the most important fixture of the weekend, an at-the-wire relegation six-pointer.
These are the reverse fixtures of those played on the weekend of November 27-28.