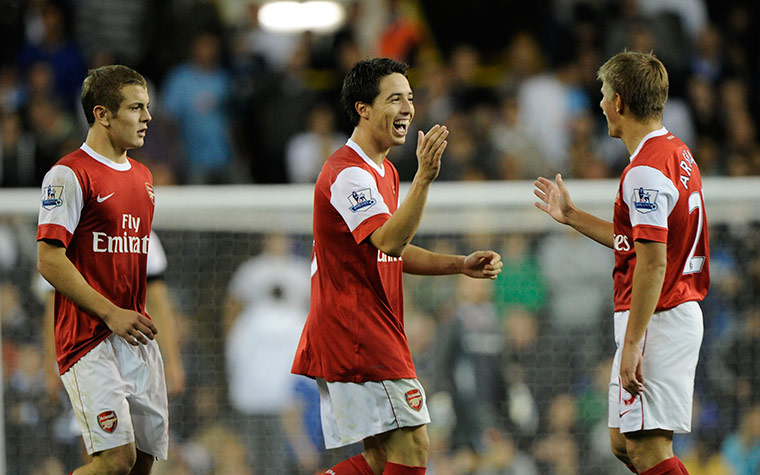 Arsenal's last match at the Shithole saw three goals in extra time.
That was awesome. I miss that day. Photo: Guardian.
White Hart Lane, London
Wednesday, April 20
2:45 p.m. EDT, 7:45 p.m. BST
Check the bottom of the post for your chance
to win a £100 credit at Classic Football Shirts!
This is the last post of the competition; the drawing is Friday!
Match Officials

Referee: Martin Atkinson
Assistants: John Flynn and Peter Kirkup
4th Official: Stuart Attwell

This Match, Last Year: Tottenham 2 - 1 Arsenal
Reverse Fixture: Arsenal 2 - 3 Tottenham
All-Time in All Competitions: 69 Arsenal wins, 52 Tottenham wins, 44 draws
Arsenal's Recent Form: W-D-D-D-W-D
Tottenham's Recent Form: W-L-D-D-D-W
Arsenal Squad News
Injured:
Fabianski (shoulder), Vermaelen (Achilles)
Arsenal will get a huge boost with the
return of Not Eboue. Photo: Arsenal.
Surprisingly good news on the injury front, which is pretty much the only place where Arsenal has had good news lately. And that's just shocking, isn't it? Seriously, when has that ever been the case?
This week, the best news is that Bacary Sagna will return from his knee injury, meaning Emmanuel Eboue, fresh off being called for the penalty which led to Arsenal's 1-1 draw Sunday, will drop back to the bench.
Alex Song is fully fit and is likely to start, though Jack Wilshere may drop to the bench in the name of rotation. Arsene Wenger said yesterday, "We have now three midfielders - Wilshere played many games, Diaby and Song - so we will rotate a little bit from game to game." Denilson returns from his toe injury, but you'll notice that he's apparently not one of the three midfielders Arsenal has right now. That's probably good news.
Manuel Almunia returns from his knee injury, but he'll only get as far as the bench, as Wojciech Szczesny has regained the starting job. Thomas Vermaelen is back in training, but not match fit yet. Only Lukasz Fabianski is still completely out.
Predicted squad: Szczesny, Sagna, Koscielny, Djourou, Clichy, Song, Diaby, Fabregas, Nasri, Walcott, van Persie.
Tottenham Squad News
Injured:
King (groin), Woodgate (calf), Palacios (knee), Hutton (knee)
Doubtful:
Kranjcar (foot), Pienaar (groin)
January acquisition Steven Pienaar is a question with a groin injury, but Peter Crouch should be well rested, having been suspended for Tottenham's crash out of the Champions League. Ledley King and Jonathan Woodgate have both returned to light training but are expected to be short for the rest of the season. I believe Winston Palacios may be close to a return, but Alan Hutton's season is over with cartilage damage in his knee.
I'd write more, but I try not to pay attention to Spurs; it makes me ill.
Current Form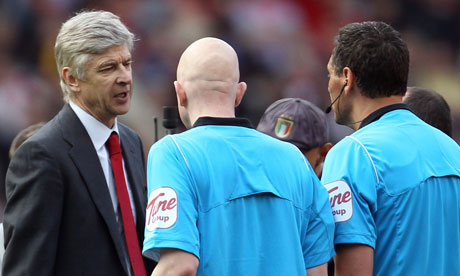 Arsene Wenger argues on Sunday, during the 817th
time my soul was crushed this season. Photo: Guardian.
Arsenal have been drawing so much lately that it seems like they've sunk their chances at winning the league without actually losing a match. Over their last 26 matches, Arsenal have lost four times: twice in the Carling Cup, once in Europe, and once in the FA Cup. That means the Gunners are unbeaten in 15 league matches. Seven of those 15 matches were draws. Arsenal have the league's best record away from home.
Spurs had the weekend off to recover from their crash out of Europe, since their scheduled opponent, Manchester City, had an FA Cup Semi-Final to play. Arsenal entered this exact fixture in that exact same situation last season: after crashing out of Europe to Barcelona, Arsenal had the weekend off as Spurs played (and lost) an FA Cup Semi. Tottenham have lost once in their last ten league fixtures; that came at Blackpool. Like Arsenal, they've drawn a lot lately too, drawing five of those ten league fixtures just mentioned. Spurs have lost just once at home in their last 26 league fixtures at White Hart Lane. That came against Wigan in August. Their prior loss in the league at home came to Wolves in December 2009.
Match Facts
We hate Tottenham and we hate Tottenham. We hate Tottenham and we hate Tottenham. We hate Tottenham and we hate Tottenham. We are the Tottenham haters.
The Referee
The referee is West Yorkshire based Martin Atkinson, who was recently named the referee for this year's FA Cup Final in May. Atkinson leads the league in red cards awarded with 12 (though 10 were in the top flight, one was in the Championship, and one was in Europe.)
For Arsenal, Atkinson has taken charge of the season opening 1-1 draw at Anfield (when Laurent Koscielny was sent off), the 2-1 win over Birmingham (when Jack Wilshere was sent off), the 2-0 win over Wigan in the Carling Cup, and the abysmal 1-0 loss at Ipswich Town in the Carling Cup.
For Tottenham, he worked their 1-0 loss at Upton Park, a 2-1 win over Liverpool, and a 2-1 win at Aston Villa that saw Spurs on ten men for an hour.
Around the League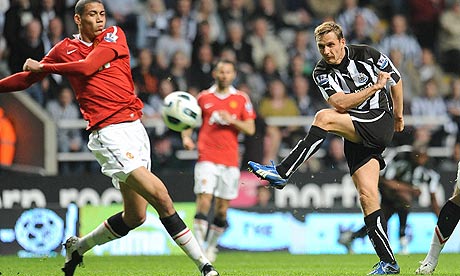 United dropped points again. Because that's just the thing
you do this season. All the cool kids are doing it.
Photo: Guardian.
This round of midweek fixtures is brought to you by previous match postponements. Yesterday, Arsenal got a good amount of help (yet again) in the form of Manchester United's 0-0 draw at Newcastle. Arsenal plays their game in hand today and can move within four points of the top spot. I'm not really sure if anybody wants to win the league this year, given all of the evidence at hand.
Today, the other match sees Chelsea host Birmingham City at Stamford Bridge. Both this match and the North London derby were postponed because of the Carling Cup Final in February.
Your last chance to enter our trivia competition!
The Modern Gooner is running a competition sponsored by
Classic Football Shirts
, purveyors of excellent retro, vintage football shirts from throughout history for nearly as many teams as there are out there (and some that don't even exist anymore, like Wimbledon). There are of course lots of
sweet Arsenal tops
if you look around the site.
All you have to do is provide the correct answer to the following question:
In the 1998-1999 season, Arsenal played in the Champions League for the first time. What was significant about their home matches?
Email your response to
competition@themoderngooner.com
.
The name of the winner will be drawn at random on
Friday, the 22nd of April
, and posted on the site, and that lucky Gooner will receive a £100 ($163) credit to
Classic Football Shirts
, which in this market is equivalent to something like $4000, so get your entries in (limit one per person). And of course, whether you win or not, check out their site, their gear is really first-rate. Good luck, and may Dennis be with you.
If you don't already, you can
click here
to subscribe to the RSS feed of this blog. You can also
click here
to follow us on Twitter, and
click here
to follow us on Facebook. This way you'll always be alerted when a new post is up.