Sunday, May 1
9:05 a.m. EDT, 2:05 p.m. BST
Match Officials:

Referee: Chris Foy
Assistants: John Flynn and Andy Garratt
4th Official: Lee Mason

This Match, Last Year: Arsenal 1 - 3 Man United
Reverse Fixture: Man United 1 - 0 Arsenal
All-Time in All Competitions: 78 Arsenal wins, 88 Manchester United wins, 46 draws
Arsenal's League Form: D-D-W-D-D-L
Man United's League Form: L-W-W-W-D-W
Arsenal Squad News
Injured:
Diaby (calf), Fabianski (shoulder), Vermaelen (Achilles)
Doubtful:
Rosicky (illness)
Wenger's new plan for success? MAGIC!
Photo: ESPN.
Injuries really aren't all there is to talk about in terms of squad news these days; attention from the blogosphere is pointing more and more towards Arsene Wenger's selection and substitution decisions in addition to the worth of the players in the side.
But you probably know that already, so we'll start with injury news anyway: Abou Diaby has not passed fit again with a calf problem, Thomas Vermaelen actually played again in an Arsenal jersey, albeit for the reserves, but remains short for Sunday, and Lukasz Fabianski's season remains as over as it was in January. So, that's that.
What's really worrying about the way Arsenal played last weekend is that this was the same starting XI that was tearing up the league in late December / January. The same eleven that played Chelsea off the pitch just after Boxing Day. The same eleven that rightfully dominated sides like Birmingham, West Ham, and Wigan throughout January. Essentially, it's the top choice eleven, with the exception of the injured Vermaelen.
I'm of the opinion that it wasn't the Carling Cup loss that exactly
started
the downfall. Blowing a 4-0 lead at Newcastle slipped the knife in, the loss at Wembley just twisted it. By the end of February, for all of the talent this Arsenal squad has, empirical evidence suggested that this team just couldn't finish the job. And from there, that snowballed, and the season was lost.
Let's be honest, when this team is in form and healthy, they can beat anybody; just ask Barcelona after their trip to the Emirates. Sometimes it's impossible to see that when you're so horrendously out of form that you seem to find new and interesting ways to drop points on a weekly basis. Now that the pressure is off, I wouldn't put it past the talent on this team to go out on Sunday and win, even given their most recent results. Get one win and it can snowball back in the other direction, which would be the most heartening way for this season to end from an Arsenal perspective.
Predicted squad: Szczesny, Sagna, Koscielny, Djourou, Clichy, Song, Wilshere, Fabregas, Nasri, Walcott, van Persie.
Manchester United Squad News
Injured:
Fletcher (virus), Hargreaves (shoulder)
Suspended:
Scholes (third of three, violent conduct)
Dimitar Berbatov will return to the side from a groin strain he suffered in United's FA Cup loss to Manchester City two weeks ago; he missed three matches, including this week's Champions League win in Germany, though he has been in training all week. Darren Fletcher played 45 minutes for the reserves this week, but will not return to the first team yet; he's missed six weeks with a virus.
Paul Scholes will complete his three match ban for the red card he picked up at Wembley. I'm not really sure why at the time I thought he would have completed that ban before this match. Ryan Giggs will be rested ahead of the second leg of United's Champions League semi-final coming up next week.
Current Form
In their last seven league games (i.e. the seven since the Carling Cup Final,) Arsenal have won once, lost once, and drawn five. At the Emirates, Arsenal have not lost since November, but have drawn their last three, the first two of which were 0-0. The latter of the three was 0-0 for 98 minutes. Then some good things happened and then some bad things happened. In the ten matches since the Carling Cup Final across all competitions, Arsenal have won twice, lost three, and drawn those same five.
On the other side, United have kept clean sheets in their three matches played since losing the FA Cup semi-final, and they completely played Schalke off the pitch on Tuesday. The good news from an Arsenal perspective, as has been well documented this season, is that United's away form in the league has been horrible for a league leader. The last team to win the league in a year they won fewer than eight games away from home was Liverpool in 1977 (who won five.) United right now has only won five away from home. They have lost three and drawn nine in the league away from Old Trafford.
Match Facts
Samir Nasri had a brace in Arsenal's last win over United.
Doesn't Howard Webb look pissed off in the background?
It's like he's given him a death stare for beating United.
Photo: Guardian.
Including this season and last, Manchester United have won all four of their meetings with Arsenal (United have not won five straight against the Gunners since the mid-'80s.) This year, United outscored the Gunners 3-0 in two meetings, both played at Old Trafford. In both matches, Arsenal failed to create chances despite dominating much of the possession, and it was United's killer instinct in making their few chances count that sank the Gunners.
In this match last year, Arsenal was never really in contention, as United built up a 3-0 lead by the hour mark. The Gunners played about five solid minutes (between about the 78th and 83rd minutes) during which Tom Vermaelen headed in a consolation goal. Arsenal nearly got a second in that time frame, which would have made the end interesting, but did not. At Old Trafford last year, Andrei Arshavin gave Arsenal a 1-0 lead at halftime, but a Wayne Rooney penalty and some ridiculousness from Abou Diaby handed United the 2-1 win.
Arsenal's last result against United was a 0-0 draw that incidentally was enough for the Red Devils to win the title that day. Arsenal's last win against Manchester United was 2-1 in November of 2008, thanks to a brace from Samir Nasri. United are unbeaten in their last seven against Arsenal across all competitions, winning six of them.
The Referee
The referee is Merseyside-based Chris Foy, who also took charge of Arsenal's meeting with Manchester United in the FA Cup last month. He has not worked another match for either side since then, so much of what I said about him in
that preview
remains true.
For Arsenal this season, Foy has worked a 2-1 win at Blackburn, a 2-1 win over Fulham, and the 2-0 home win over Wolves in addition to the 2-0 loss at Old Trafford. For United this season in addition to the FA Cup win, Foy has worked a 3-0 win over Newcastle, a 0-0 draw at Sunderland, a 0-0 draw at Eastlands, a 2-1 win at West Brom, and a 3-1 win over Aston Villa that I seem to have missed in the aforementioned last preview.
Foy is from Liverpool and has stated that he is an Everton supporter. As such, Foy does not take charge of matches involving either Merseyside team.
Around the League
Monday is a bank holiday in England, and yet, there are no matches scheduled to be played (you may recall Arsenal played Blackburn Rovers on this bank holiday last year.) There's no early match on Saturday either (Sky Sports is showing Leeds v. Burnley in that slot,) but there are two super-early matches on Sunday. These are the reverse fixtures of those played December 11-13.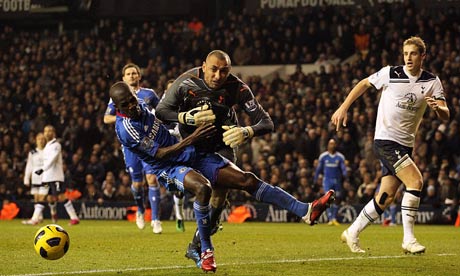 Gomes conceded, then saved, a penalty to keep Spurs v.
Chelsea 1-1 in December. Photo: Guardian.
Five matches kick-off the weekend at the standard time slot of 3:00 p.m. in England. Blackburn hosts Bolton in a North-West derby, Blackpool hosts Stoke, Fulham heads north to play Sunderland, West Brom hosts Aston Villa in a West Midlands derby, and Everton plays at Wigan. The late game Saturday sees a high profile London derby as Chelsea hosts Spurs. Can they both lose, please?
Before Arsenal's kick-off on Saturday, there are two matches slated for 7:00 a.m. Eastern time. There's another West Midlands derby, as Birmingham hosts relegation likely Wolves and Liverpool hosts Newcastle. In Sunday's late match, Manchester City hosts also relegation likely West Ham.
Looking at next year's league for a second, Queens Park Rangers are a single point away from securing automatic promotion from the Championship; they play Watford on Saturday. Watford is the only team to win at Loftus Road this season. QPR's last year in the top flight was 1995/96.
If you don't already, you can
click here
to subscribe to the RSS feed of this blog. You can also
click here
to follow us on Twitter, and
click here
to follow us on Facebook. This way you'll always be alerted when a new post is up.