12:15 p.m. EST, 5:15 p.m. GMT
Match Officials

Referee: Chris Foy
Assistants: Adam Watts and John Flynn
4th Official: Mark Halsey

Prior Meeting This Season: Manchester United 1 - 0 Arsenal
All-Time in All Competitions: 78 Arsenal wins, 87 Manchester United wins, 46 draws
All-Time in the FA Cup: 5 Arsenal wins, 6 Manchester United wins, 2 draws
Arsenal's Form, Across All Competitions: D-W-L-W-D-L
United's Form, Across All Competitions: W-W-D-W-L-L
Arsenal Squad News
Apparently, routine saves are very very dangerous.
Photo: Daily Mail.
Injured:
Szczesny (finger), Fabregas (hamstring), Song (knee), Walcott (ankle), Fabianski (shoulder), Vermaelen (Achilles)
The Arsenal infirmary is growing yet again, quite possibly at the worst time. The Gunners find themselves now in just two competitions after the loss in Spain on Tuesday, and a poor performance tomorrow would find them still alive in only the league.
Thankfully, the news in certain spots is much better than in others. Up front, Robin van Persie, initially expected to be a doubt, has passed fit to start at Old Trafford. The Dutchman played 55 minutes on his return before being shown a second yellow card for shooting the ball without a recurrence of the injury he suffered in the Carling Cup Final.
Speaking of injury recurrences, there is no good news for Cesc Fabregas. The captain re-aggravated the hamstring injury that has plagued the last year of his career and will now likely miss two weeks. That means this weekend's trip to Manchester and next weekend's trip to West Bromwich. Those two matches are followed by an international break, so Fabregas's return will likely be at the Emirates against Blackburn Rovers on April 2. Tomas Rosicky has seen a lot of playing time with Fabregas out, so I don't see that changing, even though I'd much prefer Samir Nasri to play the central, box-to-box role.
The other bad injury news surrounds Wojciech Szczesny, who dislocated his finger making a routine save on Tuesday. The news is so bad because the young Pole also damaged a tendon in the process, so it is unknown how long he will be out. I have the feeling his season is done, which means Manuel Almunia steps back in as #1, with both Polish keepers out long term. James Shea will be the back-up for the time being; Vito Mannone could be recalled from Hull City, but he has a thigh injury. Arsene Wenger will likely have to file for an emergency transfer, like Manchester City did when Shay Given was injured last April.
Alex Song remains out with a knee problem picked up at Wembley, so Abou Diaby should continue to deputize. The injury news remains unchanged in other positions.
Predicted squad:
Almunia - Sagna - Koscielny - Djourou - Clichy - Diaby - Wilshere - Rosicky - Nasri - Arshavin - van Persie
Manchester United Squad News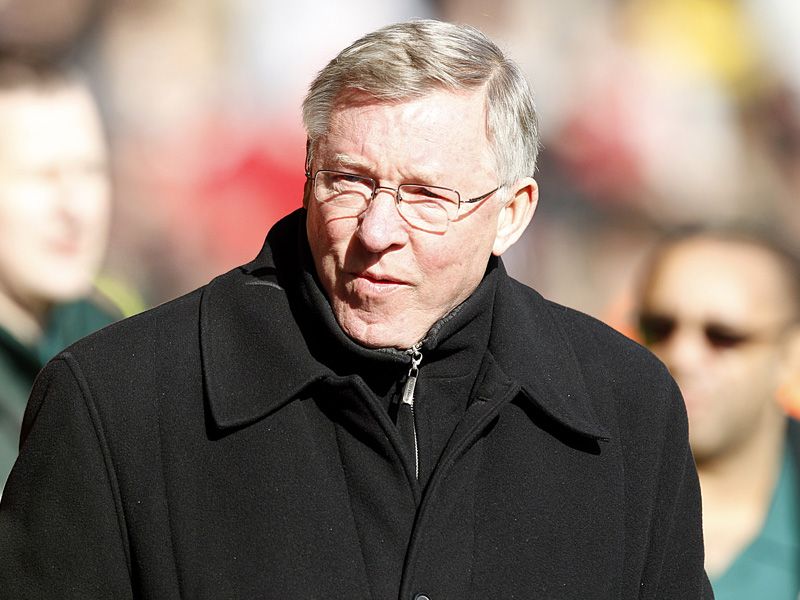 Based on information I've learned from interviews with Sir
Alex Ferguson this week, Manchester United might just not
even show up tomorrow. Photo: Sky Sports.
Injured:
Xxxx (xxx,) Xxxxxxxxx (xxxx,) Xxxxx (xxxx,) Xxxxxxxx (xxxxxx xxx,) Xxxx (xxxxxxxxx,) Xxxxxxxx (xxxx,) Xxxxxxxxxx (xxxxxxxxx)
United's injury situation is almost as bad as Arsenal's, but I don't really know who might be returning for them this weekend since Sir Alex Ferguson took his toys and went home and won't play with the media anymore.

In terms of the players who are closest to coming back, Rio Ferdinand and Jonny Evans are both near returns from calf injuries. Most likely out of the line-up for United are Antonio Valencia (who is close to returning to training after a horror broken leg in September,) Nani (who could be out for a while after Jamie Carragher almost took his leg off,) Ji-Sung Park (the Arsenal killer has a hamstring problem,) Anderson (knee,) and Owen Hargreaves (hamstring.)
Current Form
Across all competitions, Arsenal have dropped points in consecutive matches (Sunderland in the league and Barcelona in Europe) for the first time since early January, when Arsenal drew Manchester City and Leeds United, then lost at Ipswich Town. If you include the neutral site Carling Cup final, Arsenal have not won a match away from home in four tries. Arsenal's last win away from the Emirates was on January 18, in the FA Cup replay at Leeds.

Manchester United are coming off two straight losses themselves, both in the league, for the first time since early April last year, when they lost to Chelsea shortly after dropping the first leg of their Champions League quarterfinal at Bayern Munich. Only three teams have been able to salvage a draw at Old Trafford this season: West Brom, Rangers, and Valencia. The last team to win at Old Trafford was Chelsea, in the aforementioned match last April.
Match Facts
Over this season and last, Manchester United have won all three matches with Arsenal. Last year, Arsenal outplayed United at Old Trafford, but a Wayne Rooney penalty and a moment of sheer idiocy from Abou Diaby gave the Red Devils a 2-1 win. At the Emirates, Arsenal never really showed up in a 3-1 loss and in December, Ji-Sung Park's first half header was the difference.

Arsenal's last result against Manchester United was a 0-0 draw, which incidentally was enough to give United the league title that day. Arsenal's last win against United was 2-1 at the Emirates in November 2008, thanks to a Samir Nasri brace. While Arsenal took four points out of six from United in the league two years ago, there was also a two-legged meeting in the Champions League that... went poorly for the Gunners...

Arsenal last met United in the FA Cup in 2008 and lost 4-0. Both sides also met in the 2005 FA Cup final, which Arsenal won on penalties. You might recall that that was the last time Arsenal won a trophy.
The Referee
Patrice Evra argues with Chris Foy about why he's not
helping United more blatantly. Photo: Daily Mail.
The referee is Merseyside-based Chris Foy. When I read that, I was hoping he'd be a Liverpool supporter and therefore try to screw over United, but he's actually an Everton supporter.
Arsenal have won all three matches they have played this season with Foy as the referee, a list which includes the 2-1 win at Blackburn in August, the 2-1 win over Fulham at the Emirates in December, and the 2-0 win over Wolves a month ago. Foy was supposed to take charge of Arsenal's first FA Cup tie this season, against Leeds United, but something (which I never figured out) happened and fourth official Phil Dowd took over. I seriously hope that doesn't happen again, as we all know what happened with Phil Dowd last month; thankfully, he's working the Birmingham v. Bolton match tomorrow.
Foy has worked four Manchester United matches this year, which includes two 0-0 draws (with City and Sunderland) as well as United wins over Newcastle and West Ham.
Around the League
This is the last FA Cup round in which there are no other top flight fixtures scheduled. This means that every Premier League team that has crashed out of the cup has the weekend off. That list is: Aston Villa, Blackburn, Blackpool, Chelsea, Everton, Fulham, Liverpool, Newcastle, Sunderland, Spurs, West Brom, Wigan, and Wolves.

Seven Premier League sides have FA Cup ties this weekend, a number which includes Arsenal and United. The lone representative from outside the top flight still alive in the cup is Reading; they play at Manchester City on Sunday. The early match Saturday, before Arsenal's, will be Birmingham City hosting Bolton. The other Sunday match is West Ham at Stoke City.
If you don't already, you can
click here
to subscribe to the RSS feed of this blog. You can also
click here
to follow us on Twitter, and
click here
to follow us on Facebook. This way you'll always be alerted when a new post is up.