Andrei Arshavin wears a shirt with himself on it. That's great.
Photo: Daily Mail.
Camp Nou, Barcelona
Tuesday, March 8
Referee: Massimo Busacca (Switzerland)
All-Time: 1 Arsenal win, 3 Barcelona wins, 2 draws
Arsenal's Form, Across All Competitions: W-D-W-L-W-D (first leg in bold)
Barcelona's Form, Across All Competitions: D-L-W-W-W-W (first leg in bold)
Arsenal Squad News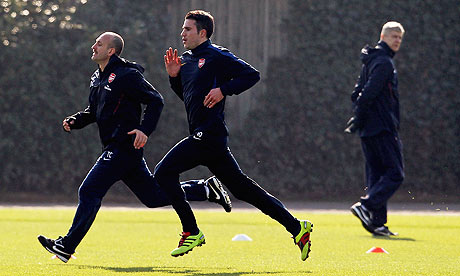 Holy crap, it's van Persie! Photo: Guardian.
Injured: Song (knee), Walcott (ankle), Fabianski (shoulder), Vermaelen (Achilles)
We saw, once again, on Saturday how much this team can miss the creativity of Cesc Fabregas and Robin van Persie when they are missing. The good news is that Fabregas is "90%" likely to return to the side from his injury. The shockingly great news is that van Persie might be available too. Nobody saw that announcement coming, I can be sure of that. Van Persie should only play if he's 100% fit, and if that's the case, then he needs to be starting, so I can't see him being on the bench. If RVP can't start, then it'll be Nicklas Bendtner up top.
Arsenal is expected to play five in the midfield and Jack Wilshere, who has passed fit after an ankle knock, will be able to slip back into his normal position now that Fabregas is returning. However, he will not be slipping even farther back to fill the role of Alex Song, who is still hurt. My personal preference would be for Abou Diaby to start there over Denilson. As for the rest of the midfield, it seems like it has to be Samir Nasri and Andrei Arshavin.
The back seems simple to pick as well, with Wojciech Szczesny in goal, and a back four of Bacary Sagna, Laurent Koscielny, Johan Djourou, and Gael Clichy.
So, to recap, depending on the Dutchman's fitness, my guess is: Szczesny, Sagna, Koscielny, Djourou, Clichy, Diaby, Wilshere, Fabregas, Nasri, Arshavin, van Persie or Bendtner.
Barcelona Squad News
Lionel Messi: Good at this sport. Photo: BBC.
Injured: Puyol (knee)
Suspended: Pique
Arsenal got a break in terms of injury news, in that Carles Puyol, despite returning to training recently, will not be fit to play in the second leg. This, combined with Gerard Pique's suspension means Barcelona will have to start a makeshift central defense. Bear in mind that both missed the second leg last year too and it didn't matter much, because Lionel Messi scored 75 goals. Eric Abidal will deputize in the middle and will be joined by Sergio Busquets, who slips back from his holding role. Javier Mascherano will start in Busquets's place.
The Gunners will need to exploit Barcelona's weakened defense because there is nothing wrong with Barcelona offensively. The attacking trio of Lionel Messi, David Villa, and Pedro remain one of the most lethal in the world and with Xavi and Andres Iniesta behind them, they don't get any easier to control.
Current Form
Since the first leg, Barcelona have rattled off four more wins in La Liga. The Catalans have a seven point lead over Real Madrid for first place and a twenty point lead over third place Valencia. They have already qualified for a top three place, and thus, a Champions League group stage place next season.
Arsenal's only losses since mid-December have come in the Carling Cup; the losses to Ipswich Town and Birmingham City are Arsenal's only two in a span of 20 matches that includes 12 wins and six draws.
Match Facts
Arsenal and Barcelona have met six times; the Gunners' first leg win was their first against the Catalans.
These two sides first met in the group stage in 1999/2000. Arsenal salvaged a draw at Camp Nou, but lost in London, in a match that was played at Wembley. We all know what happened in the 2006 final. Last year, both sides drew at the Emirates before Barcelona eliminated Arsenal at Camp Nou.
The last time Arsenal failed to advance past the Round of 16 was 2007, when the Gunners were eliminated by Holland's PSV 2-1 on aggregate. The last time Barcelona failed to reach the quarterfinal was also 2007, when Liverpool beat them on away goals.
The Referee
The referee is Massimo Busacca from Switzerland. Busacca took charge of Arsenal's come from behind 2-2 draw with Barcelona at the Emirates last season. He also took charge of the Gunners' 2-1 loss to Shakhtar Donetsk in November and Barcelona's 2-0 win over Manchester United in the 2009 final.
Busacca also worked one match in this summer's World Cup: Uruguay's 3-0 win over the host South Africa, in which he sent off the host nation's goalkeeper for a professional foul.
His hobbies include travelling
.
If you don't already, you can
click here
to subscribe to the RSS feed of this blog. You can also
click here
to follow us on Twitter, and
click here
to follow us on Facebook. This way you'll always be alerted when a new post is up.