Earlier this season, Sunderland equalized in the
457th minute of stopping time. Photo: Daily Mail.
Emirates Stadium, London
Saturday, March 5
10:00 a.m. EST, 3:00 p.m. GMT
Match Officials

Referee: Anthony Taylor
Assistants: Dave Bryan and Andy Garratt
4th Official: Peter Walton

This Match, Last Year: Arsenal 2 - 0 Sunderland
Reverse Fixture: Sunderland 1 - 1 Arsenal
All-Time in All Competitions: 52 Arsenal wins, 49 Sunderland wins, 37 draws
Arsenal's League Form: W-W-W-D-W-W
Sunderland's League Form: D-W-L-L-L-L
Possible Arsenal Squad
Szczesny
Sagna - Squillaci - Djourou - Clichy
Diaby - Wilshere
Nasri - Rosicky - Arshavin
Bendtner
Arsenal Squad News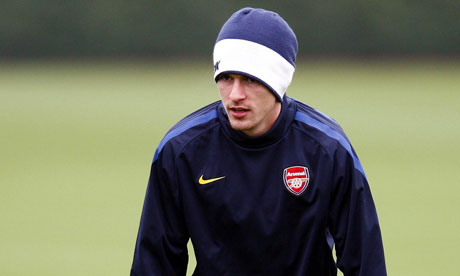 Aaron Ramsey returns from his loan to Cardiff.
Photo: Guardian.
Injured: Song (knee), van Persie (knee), Fabregas (hamstring), Walcott (ankle), Fabianski (shoulder), Vermaelen (Achilles)
Doubtful: Koscielny (hamstring)
Arsenal's injury situation has not changed since Wednesday's 5-0 win against Leyton Orient. Laurent Koscielny is the closest to returning to the side from a tight hamstring, but the rest will miss the weekend. Cesc Fabregas and Alex Song are hoping to return for Tuesday's trip to Camp Nou, but Theo Walcott will surely be short and Robin van Persie is expected, best case scenario, to return in early April. And Thomas Vermaelen? Eventually he'll be back.
Thanks to Chelsea, Arsenal has been given even more help in the league, making three points crucial this weekend. Then again, I hope to be able to say that every three points will be crucial for the rest of this season; Arsene Wenger has said that every match is already essentially a cup tie in that a loss would be damaging.
As for the line-up, Wojciech Szczesny should return in goal and the back four should return to some sense of normalcy (minus the injured Koscielny) after rotation for the cup replay. With Alex Song hurt, I'd choose Abou Diaby over Denilson in the holding role alongside Jack Wilshere, and I, along with many of us, would love to see an appearance from Aaron Ramsey off the bench.
Nicklas Bendtner's hat trick on Wednesday means he's likely wrestled the starting position up front away from Marouane Chamakh while van Persie remains sidelined. Andrei Arshavin and Samir Nasri should return to the side after Wednesday's rotation, while Tomas Rosicky has been starting in the Fabregas role, as much as that may continue to bother me a bit.
Sunderland Squad News
Injured: Welbeck (hamstring), Meyler (knee), Cattermole (back), Turner (knee), Campbell (knee)
Sunderland are in poor form thanks to the major toll of injuries, combined with Darren Bent's January transfer to Aston Villa. This, combined with long-term injuries to Frazier Campbell and Danny Welbeck mean that the Black Cats no longer have the same offensive threats as they had when they drew Arsenal in September. Only Asamoah Gyan remains as bona fide striker on the team, and while he has scored goals in two of his last three matches, Sunderland have lost four straight in league play and have conceded 11 goals in those four.
Current Form
Arsenal have lost only two of their last 19 matches, and you might recall that both were in the Carling Cup. But, let's not mention that again, okay? In the league, the Gunners are unbeaten in 10, dating back to mid-December and at home, Arsenal have won eight straight and are unbeaten in 14 across all competitions.
Sunderland have lost four straight, as mentioned earlier, and have also only won once in their last seven. That win was 2-1 at Blackpool. This seven match slide began with a home loss to Notts County in the FA Cup third round.
Match Facts
Here is Sunderland's aforementioned 457th
minute equalizer. Photo: Daily Mail.
Arsenal won this match last year 2-0, thanks to a Nicklas Bendtner tap-in from inside the six-yard box and a Cesc Fabregas injury time penalty. Earlier this year at the Stadium of Light, Fabregas injured his hamstring accidentally scoring the opening goal by blocking a clearance, which just seemed so hilarious at the time. Darren Bent equalized in the 95th minute of the match, after Arsenal spent the final half-hour on ten men.
Sunderland's last win at Arsenal came in the League Cup in 2002. The Black Cats' last league win came in 1983.
The Referee
The referee is Manchester-based Anthony Taylor. This is Taylor's first career Arsenal match. He has taken charge of 26 matches in total this season, with only nine of them being Premier League matches. He has worked a Sunderland match this season, though. That was their opening day 2-2 draw at home against Birmingham, in which he sent off Lee Cattermole (for being Lee Cattermole.)
Taylor is the fourth referee to work his first career Arsenal match this season, a list which includes Michael Oliver, Stuart Attwell, and Kevin Friend.
Around the League
Most of this weekend's big matches (as standard) are on Sunday and Monday. Sunday's early match is the biggest for Arsenal to keep an eye on, of course, as Manchester United, fresh off their loss at Stamford Bridge, travel to Anfield to play Liverpool. If all goes well this weekend, Arsenal could be just one point out of first place with a game in hand. Later on Sunday, Tottenham Hotspur travels to Molineux to take on Wolves and on Monday, Chelsea travels to Blackpool.
As for the rest of Saturday's games, Birmingham City hosts West Bromwich Albion in the early match and Manchester City hosts Wigan in the late match. Simultaneous to the Arsenal match, Aston Villa will travel to Bolton, Fulham hosts Blackburn, Newcastle hosts Everton, and West Ham plays Stoke for the first time in two consecutive weekends (as they'll play in the FA Cup quarter-final next week.)
If you don't already, you can
click here
to subscribe to the RSS feed of this blog. You can also
click here
to follow us on Twitter, and
click here
to follow us on Facebook. This way you'll always be alerted when a new post is up.