I'm seething. Again. Time for a bit of a rant. And this is an ugly one at that.
Robin Van Persie's tweet pretty much sums it all up:
"Thanks all AFC fans 4 tonight played vs a great team and a even better ref. He had a absolute shocker tonight think we all agree on this 1"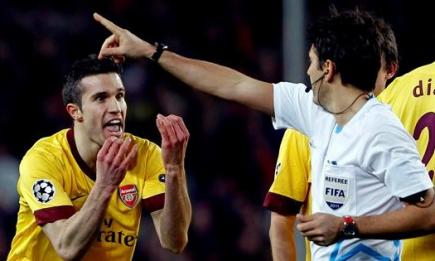 What's happening to the sanity that is European football? Last night we witnessed yet again the influence that large clubs have over match officials in big games. Why can't we just play football, mano-a-mano? Where have all the proper match officials gone? And what is Massimo Busacca spending his fat pay-off money on right now? More crack I assume, he has to be smoking that shit to make a decision like that.
To give you a bit of background for all those that didn't watch this duel (in which case you're CRAZY), Yesterday our talisman Robin van Persie was sent off for, wait for it, because this is downright despicable...............having a shot at goal. Yes, Robin KICKED the ball at the oppositions net. Who would have seen that coming?! Why did RvP do this? It's madness! Madness I tell you!!! You couldn't write it.
According to referee Massimo Busacca, Arsenal aren't allowed to kick the round spherical object at goal. At least that's what you would have thought as he brandished RvP's second yellow of the match. He certainly wasn't time wasting, he was playing FUCKING FOOTBALL. How do you expect to hear the whistle go in an arena packed with 90,000 screaming glory-supporting stinky Catalans?
It's not as if Robin has eyes in the back of his head (like the mutated, genetically engineered Barca players do) to see the linesman wave his flag either.
One second passed between the ref blowing the whistle and RvP striking the ball. ONE SECOND. That's like getting a ticket from a traffic cop for setting off one second after the traffic light turns green. What a fucking joke. This ref has reached levels of insanity beyond Charlie Sheen himself.
Of course the Red card was shown almost immediately after we had nicked a goal back to restore the advantage. We had momentum. We had belief. We had fighting spirit. Barca would need to score twice more to progress, leaving them vulnerable to the counter-attack. It was game on and I could smell the quarter finals quite clearly.
Once we lost our target man it was really downhill from there. There is only so long you can stand up against a Barcelona side hunting for glory. We were under siege. Our only escape route had been wrongfully taken away from us and it had turned from a matter of 'if' to a matter of 'when'. Make no mistake, if we still had our 11 players we would have definitely kept their 12 at bay.
We put up one hell of a fight though, our back four took fire from all angles, and when they faltered deputy keeper Almunia stood in the way. And what a fine job he did. He's obviously still very keen to fight for his number one spot back.
It was all just a matter of time before Xavi finally found the net and brought the score level. When that happened I knew it was all over. It was inevitable that we wouldn't survive to the 90th minute and THEN another 30 after. Thankfully the final blow happened just moments after Xavi found the net - Koscielny brought down Pedro in the box, Messi stepped up and calmly converted to put the Catalans in complete control of the game.
There was still 20 minutes left but trying to take the ball off of a confident Barca side at the Nou Camp AND with an extra man is like trying to take fresh meat away from a Doberman with rabies - it's not easy. And if you do grab it you're still out of options.
The only real chance we had after that was a Bendtner attempt, but his first touch from a Wilshere feeder was lacking and he couldn't capitalise. But I'll forgive him for that one, it was essentially the only attacking move we had for the whole evening.
The game finished 4-3 to Barca on aggregate, which is really a fairly respectable result no matter who you are. It's just a shame that diabolical decisions had turned what should have been an excellent game to watch (for neutral fans as well) into a circus act.
By the way, who here noticed that despite decisions going against his team, Arsene still talked to the media with a smile on his face and didn't throw his toys out the pram? Take note Fergie.
We have shown our maturity and resilience already this season. We definitely bounced back from the disappointment against Sunderland at the weekend, we just didn't have the end result or the decisions we wanted.
I have singled out a few people to hate on, because that's what I do and it makes me feel a
tiny
bit better.
Massimo Busacca
- What a circus act. You may as well have just sent RvP off for sneezing. It's as if you already knew in the back of your mind before the game had started that you'd be sending an Arsenal player off today. Enjoy your fat paycheck.
Dani Alves
- Grow a fucking Penis for crying out loud. If you want to know what real pain feels like, I'll happily punch you in the vagina.
Michel Platini
- You're ruining European football. Go on a diet and then jog on back to your hole. You look like a caveman.
And praise for these:
Jack Wilshere
- Still showing that he's England's best hope for silverware. I know Arsenal are having a drought, but it's nothing like England. JW19 had another great game against Barca today.
Manuel Almunia
- Replaced Wojciech Szczesny early on (disclocated finger, crap) and pulled off an almost infinite number of saves to keep us in the game til a point. Of course most of Barca's goalscoring opportunities came after Van Persie's dismissal.
Robin Van Persie
- For telling it how it is to the media. I feel sorry for the guy, I hope somebody delivers Massimo Busacca's head in a box to him so he can hang it up in his living room.
Laurent and Johan
- The former may have given away a penalty but it was inevitable. Both had a good defensive game and you can see by this kind of display what we can do for the remainder of the domestic season.
With all that being said, I'm very proud of Arsenal. We put on a brave fight, we've gone out of two competitions in relatively quick succession but both have been due to exceptional circumstances. Lets look forward to a fantastic trip to Old Trafford where we can once again show the world what we're made of.
If you don't already, you can
click here
to subscribe to the RSS feed of this blog. You can also
click here
to follow us on Twitter, and
click here
to follow us on Facebook. This way you'll always be alerted when a new post is up.
COYG!!!