So, I didn't see the game. But, what a load of wank that was, huh? For the second time this season, Arsenal has lost a home fixture to a newly-promoted side. Unlike the West Brom match, which featured the old "destined to fall short rally" chestnut, this was an instance where the home side were never at the races. Outfought, outhustled, outcoached, outscored, well-beaten.
This is not good enough. Or, to put it another way: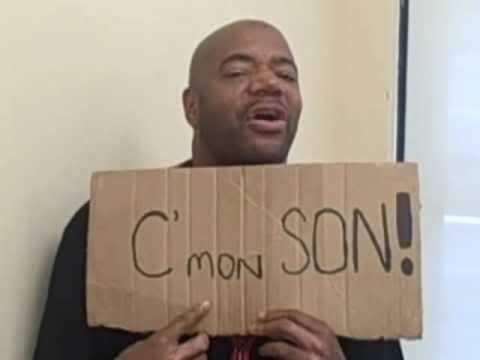 As mentioned, I cannot say much about the particulars of the match - the result was ruined for me on Facebook on my way back home from a friend's wedding, so I didn't bother to watch. There are better uses of 90 minutes, up to and including sawing at my own jugular with my house keys. At this rate though, are particulars necessary? We've seen this game before - entirely too goddamn often over the last few seasons, in fact. With that in mind, I will speak less about keepers flapping at set pieces and more about what I feel are the root causes of this malaise.
Perhaps the most damning indictment of this team at present is the fact that they are sufficiently weak mentally for it to take two separate forms. There are some teams in world football that succumb to nerves when faced with the prospect of a visit from the big dogs. Any supporter of Atletico Madrid would commiserate with us on that point, with their boys now having gone an incredible 18 matches against their cross-town rivals without a victory. There are others who bravely go out on their shield against the giants, but who cannot bring themselves to apply the same conviction to a routine visit from a relegation-threatened minnow.
Somehow, Arsenal manage to accomplish both.
This may be an unpopular opinion, but a large part of that falls on the manager. Arsene Wenger alone determines the composition of the first-team squad, the 18 who suit up on any given match day and how they are disciplined and treated. He is the one who offers lucrative contract extensions to players that have dubious claims to having earned them. He is the one who gives the halftime team talk when his side are 1-0 down to Newcastle, he is the one who gives the full-time team talk when his side capitulates and ships three goals to FUCKING WEST BROM before deciding to begin playing.
C'est vous qui doit accepter cette responsabilité, M. Wenger.
Now, don't get me wrong. I'm not flinging myself off of any buildings...I'm not calling for the boss' job, I'm not writing this season off nor any of the players specifically. As it stands, we are a little past the quarter post of the season, and we are 5 points off the pace. Chelsea are a good side but they are not invincible - they'll have their injuries, their suspensions, and their hiccups (losing to the SCOUSERS? Christ!). We are three points behind draw-happy Manchester United, and are level with their nouveau riche cousins in blue. This season can certainly be salvaged.
The time to do so is now, though.
Contrary to the frankly knee-jerk reactions that the Arsenal proletariat will give voice to after a bad loss, I don't think the problem is much with the composition of the squad. Of course, I'd love an Igor Akinfeev or Hugo Lloris in goal, I'd love a Brede Hangeland in the center of defense. In other news, I'd love to be writing this on the Riviera with a drink in one hand and the other around Natalie Portman (You may ask how I'd be writing this with both hands occupied - the answer, of course, is that I'd be dictating it to my assistant...come on, people!). Back in reality, I'm writing this in my cubicle when I should be working, and we have the squad we have. On paper, it's one of the strongest in the league...and it should be doing better than it is.
I don't even know if it comes down to something like "we have to defend better"...well, at least with our center-halves, anyway. They know how to defend - Laurent Koscielny alone has made several brilliant interventions this season, and for the most part we've dealt with set pieces far better than in seasons past. Even when you look at our beleaguered fullbacks though, I feel like the mistakes that Gael Clichy and Bacary Sagna have made this season are less a matter of positional nous and more a matter of grey - in other words, the bit between their ears. That goes for the squad as a whole. They amble aimlessly at times, letting the game pass them by. We've all screamed at our televisions at the lack of effort shown by Andrei Arshavin since his early-season purple patch. We've bemoaned the lack of cutting edge from Tomas Rosicky, the susceptibility to injury from Robin van Persie, and the errors from our goalkeepers (I still insist that for the most part, Lukasz Fabianski has been better than expected overall since he's taken the No. 1 slot).
We know these guys can play football. Every so often, when the stars align juuuuuuuuuuust right, they actually show it. Just ask Blackpool about that one.
It says something though that, after five years of trophyless seasons, after countless articles and interviews where for all intents and purposes they've had their desire and even their manhood questioned, after being mentally and physically abused by the top teams, this lot still have the same old fragility. No fight, no drive, no determination, no defiance, no guts, no testicles, no resistance. George Graham is turning over in his grave, and he's not even dead yet.
Again, I'm trying very hard to not overreact. Maybe they'll turn the corner - we looked shite for a while in 1998 as well, and we know how that turned out. The problem is, most of these guys have won nothing in their careers. Cesc of course has internationally, I think Tommy was on the Dortmund side that won the UEFA Cup, but other than that? Squillaci winning with Lyon and Arshavin winning with Zenit is nothing like the Premier League. At the highest levels, for the most part these guys have been found wanting.
And what of the manager, then? What of the man who is supposed to instill the spirit and fight he incessantly talks about into his charges?
I won't get much into the allegations of his private life, because frankly I don't care. I am one of those who in any arena - sports, politics, whatever - I believe that marital fidelity does not conflate with the ability to do one's job. Shit, I think Elliot Spitzer should still be our governor. But, on a more practical level, he has allowed said private life to become a very public distraction at a time where it just isn't fucking needed or wanted. The last thing Arsenal needs in a season where West Brom, Sunderland and Newcastle have already happened is for a media circus to surround the manager. It's bad enough that many in the press have a vendetta against him for daring to call out England's Brave Journeymen on the fact that they're talentless shit-kickers with a borderline psychotic willingness to inflict injury on their betters. Now we have to endlessly hear about where his willy has wandered? COME ON, SON.
We've covered fragile players and a morally-suspect manager who is letting the inmates run the asylum. But, this mess we're in is a team effort from top to bottom...and in that I include the home support. I knew anecdotally that it was fairly anemic most of the time, but it took my visit for the West Ham match for me to see just how piss-poor it is.
With West Ham's mutant chromosomally-challenged skinhead shitbag wankers going on and on about how our support was shit and that our manager is a pedophile, with them admittedly showing the same stoutness in support that their defense was showing on the pitch, our lot mainly sat there and took it. I'm not saying that every single person has to be a rabid shouter, I understand that their are families and kids and whatnot. But, how the shitting FUCK do a few hundred people out-sing 59,000? That should never happen. It's a disgraceful state of affairs, but it's a state that I believe our club has specifically and deliberately cultivated. There's no designated ultras section - guys like me (and the lad in front of me, to his credit) are interspersed in with the prawn-sandwich brigade. We have managed to make our 60,000-seat monolith the least-threatening bulwark since the Maginot Line.
Maybe you can't quite make the same leap I am from quiet fans to crap performances on the pitch. Personally, I think it's a disease that has spread throughout the entire club. It is a smug complacency and a feeling that trophies should come to us simply because we're the Arsenal. It is an unwillingness to get stuck in (on the pitch and in the stands) for a visit from Wigan Athletic or Partizan Belgrade. It's a complete disowning of everything that made Arsenal what it was - the desire, the fighting spirit, the commitment to defense (even with the earlier Wenger sides, the beautiful flowing football often came on the counter after we repelled an attack).
For the short term, I'm still on board with Wenger and his vision. I do believe this team can find that spark to get some of that fight and commitment back. I think Cesc can lead us to trophies in the short time we have left with him. But if that belief is not reciprocated by those who need to show it the most, then I am able to be convinced that our future lies with another manager and different players. Not yet, but how long must we accept this?