Admittedly, I didn't watch this with the usual amount of care - there were sections of them match in which I was catching up with old friends and meeting new ones. When you think about it though, isn't that really the point of all this? Goals and wins and trophies are wonderful (and I've been lucky to witness many of all three in my time as a Gooner), but for me the camaraderie of it all is its most admirable feature.
Anyway, enough of that...on to the football. This is a song we have heard many times before - Arsenal dominates possession, can't create many gilt-edged chances, then goes down 1-0 to the opponents the first time they wander into our half with any purpose. Frankly, the song is overplayed at this point. You know, like this:
In the early going, Jack Wilshere showed his class with some deft passes and direct running. Emmanuel Eboue also showed some nice touches, but for the most part there was once again no end product once we neared the Birmingham penalty area. Despite that, Arsenal should have taken the lead during this stretch, were it not for yet another goddamn linesman who has no idea how to apply the offside rule (seriously, it seems like the next lino to get it right will be the first one). Samir Nasri's brilliant free kick curled into the path of Sebastien Squillaci, who fired a header on net. Ben Foster - who did not have a great game at all - could only punch it onto the underside of his bar and into the net. It looked to me that Squillaci was leaning forward and his torso was past the last defender, but his feet were level. Anyway, it was a razor-thin decision, and those always seem to go to the defense. In honesty though, put the shoe on the other foot and I'd be screaming for the flag.
Gael Clichy also had a chance after the ball pinballed around the City penalty area, but unfortunately the shot was lined up on his weaker right foot, and he fizzed his shot wide (when it would have been easier to score). One of their uncoordinated shambling scarecrows also managed to get a block in after Wilshere and Chamakh combined on two one-twos (does that make it a two-four?) to spring the latter for an open shot.
So, of course Birmingham scored.
As I recall, the Blues got a soft free-kick on the right side, just outside our area. The fact that this was called was especially galling given that they our opponents threw more 'bows than Ludacris over the course of the 90 minutes (none of which were called, incidentally). Anyway, credit where it's due, the set piece was taken well and curved nicely into the 6-yard box. It was a little too far for Lukasz Fabianski to challenge, meaning Johan Djourou was on his own with Nikola Zigic. For what it's worth, Zigic is taller than Andre the Giant legitimately was (wrestling, of course, plays fast and loose with height/weight measurements). That said, Djourou was hideously-overmatched and was badly at fault for failing to exert any kind of pressure on him. Zigic's header was a gorgeous one, sad to say, and it easily eluded the despairing dive of Fabianski to nestle in the bottom corner.
Fuck me running.
Standard procedure was followed, and Arsenal immediately looked more dangerous after the goal. Once again, it musty be asked why we can't do this from the opening whistle, but that's a rant for another time. Minutes later, controversy descended on the Emirates as a penalty was awarded to the good guys. Another of their shambling zombies in the back clipped Chamakh's heel as he was going by. Some say Chamakh was already falling over, but having seen several replays, I believe it was a stonewall penalty. Considering how often we don't get those, I'll call it a case of swings-and-roundabouts either way. Nasri took it, and once again he netted with aplomb, Foster going the wrong way.
That got us to the interval at 1-1, but the Arse should have been off to the races by then. Luckily for us, Chamakh struck again early in the second half, and that would be all we'd need. This was a textbook example of what the team is capable of when everything clicks - an imperious back-heel flick from Alex Song was chested down by Wilshere, who pinged a through-ball past the static Brum defense immediately upon the ball hitting the ground. Chamakh took it in stride, beat his man with a marvelous spin move, rounded Foster and slid it into the net. Sexy football, indeed. It may be a bit churlish to point out that Foster came out at the wrong time and was guilty of indecisiveness once he did, but it's true...that one was partially on him.
The game got chippy from there, though the team did fight back unlike in seasons past. You will read reams and reams of coverage on Nasri's petulant yellow for retaliation and Eboue's scissor tackle that was a yellow card (but file under "seen them given" as far as a red is concerned). You will read twice (or perhaps thrice) that for Wilshere's stupid, rash studs-up challenge that earned him a deserved red. I want to make it abundantly clear that young Jack was 100% in the wrong on this one, and has to take his punishment (to his credit, he's admitted his mistake...unlike most of these northern shitkicking fucktards). But, what burns my ass about it is that everyone is gleefully jabbing the knife in and claiming that we are hypocrites, instead of describing it as another example as to why tackling is out of control in this sport.
If we're such hypocrites, why is that Shawcross and Henry and all of these guys have rap sheets a mile long when it comes to violent play, but tell me ONE OTHER FUCKING TIME where Arsenal have been guilty of the same in the recent past. You can't do it, because it isn't there.
However, I hate to do it, but I have to give a "C'mon, son!" to many of us who were at the Pig yesterday. I don't mind the "she fell over" bit, especially when someone is clearly over-elaborating on their fall. But with the Wilshere thing, this is EXACTLY the kind of challenge where we'd be baying for Jack's blood if the shoe were on the other foot. It was a nailed-on red card and given the fact that we've had to endure Eduardo and Diaby and Ramsey's leg breaks, we really should be better than that.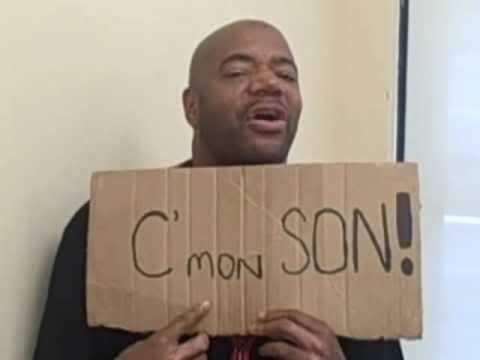 Oh, and the two announcers who worked that match can, with all undue haste, die in a fire. I have never heard such bias in my life, and it's this "stout Englishmen can elbow anyone they want, but the real problem is Johnny Foreigner going to ground (WHEN HE WAS FUCKING FOULED IN THE FIRST PLACE)" nonsense that contributes to the ongoing problems in the game.
Anyway, the red came in the 439274927th or so minute of injury time, so luckily it didn't cost us. They had one more dangerous cross into the area, but Fabianski did very well to claim it and seal all three points. At the end of the day, this was a good win on a day where United dropped points at home to West Brom (meaning they only got one more than we did for that fixture), and Chelsea drew at Aston Villa. So, with Mank City winning 3-1 against Blackpool, we're in 3rd place on goal difference.
Still, that won't mean anything unless form improves and we stop making heavy weather of shitkickers like this.
The Modern Gooner Player Ratings:
Fabianski 7, Clichy 6, Squillaci 7, Djourou 5, Eboue 6, Nasri 7, Diaby 5, Song 7, Wilshere 7 (take away the red and it's 8), Arshavin 5 (Rosicky 70 - 7), Chamakh 8 (Bendtner 79 - 6)