Good afternoon, fellow Gooners, it is a pleasure to meet you. My name is Zach, and I have been recruited by Brett to
help keep the site updated more than once a week
provide a fresh voice in the midst of our array of frustrated, beautiful-football-loving wearers of red-and-white shirts. Once upon a time I wrote a blog,
116street Soccer
, that some people liked, and I've been known to resemble Thierry Henry. I'm going to try my best to not be redundant or obvious, so let's get this party started, shall we?
The other day, after I had finished naming the walls in my apartment while hanging a clock on the south end, I went to read my favorite daily, the
Islington Tribune
(delivered to me on 116
th
Street every morning), which informed me that I had been "
Arsenalising
" my apartment without even knowing it. This made me ponder the nature of the word
Arsenalising
for two reasons, the first being whether as an American it would be pretentious to spell it with an "s" instead of a "z" (I'll keep working on that one until I feel comfortable), and also how, four years into the Emirates' existence, the need to perform such "Arsenalising" remains necessary. It was at this point that I reached a very difficult conclusion: Arsenal FC has been in the midst of a foggy and depressing identity crisis since ever since the season with the redcurrant shirts, the club will not win a trophy until they solved this identity crisis, and the only solution to emerging from it is to sell Cesc Fabregas this summer.
The redcurrant shirts were not the problem by the way, in fact they were quite snappy. They are, however, symbolic of the moment when Patrick Vieira left the club and Arsene Wenger began to slowly reshape Arsenal in the model of the club which inspires his deepest footballing dreams: FC Barcelona. That's right kids, I'm about to go there – this summer war with Barcelona, as much as it is about Arsenal being a big club in its own right and not being bullied by those do-gooding poseurs in Catalonia, is also every bit about Barcelona calling a spade a spade – and we Gooners not having much of a comeback. At stake is the very identity of Arsenal; is this going to be the swashbuckling squad of narrow pitches and swift counterattackers who die for the shirt and positively loathe their opponents?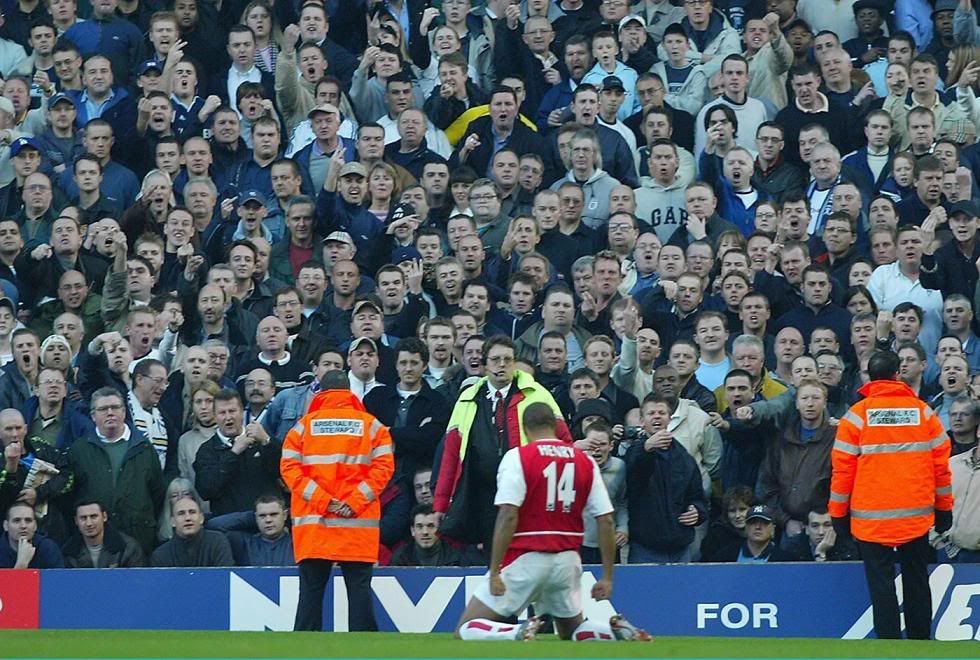 Or did Henry usher in an era in which, by motivation of trophies, money, fame or Catalan man-love homesickness, key players leverage our commitment to beautiful football (played on a wide pitch in a Camp Nou-esque stadium) to audition for a blaugrana shirt, to the tune of certain players having to "deny" a Barcelona rumor every three weeks?
I may have been a little unfair to Arshavin here, as his story thus far is nothing more than rumor and conjecture (Hleb can screw right off for all I care). But I do want to take a little time to talk about our past two captains (oh wait, was there another in between? must have missed him), and the effect that their ambitions have had on the rest of Arsenal as a club. Henry's situation was fairly unique – an Arsenal legend, not quite a fit for the captaincy, but with all of his victorious teammates departed, tasked with the burden to lead a not-ready-for-primetime, much younger team to further success. With his window closing, a departure was inevitable, and Barca presented the best available opportunity to win.
Fabregas' fabled "Barcelona DNA," however, doesn't entirely involve whatever imaginary bloodline that Xavi wants he and Cesc's progeny to maintain, it also involves the fact that Cesc came up with a squad that was decidedly Arsenal, but has captained a side that has sought nothing more than to emulate Barcelona in England. Why, if he plays for a team patterned after Barca yet not winning, would he not want to return to the genuine article? This, above all, is the reason why we need to sell Cesc this summer. As much as we envision one final hurrah, with Cesc scoring goals and kissing badges and dedicating himself to the club, the reality is that Arsenal will not win trophies until the club is once again led by players who have no greater ambition than to win trophies with and for Arsenal.
…So yeah, nice to meet you guys. Let's talk it out in the comments. You know what time it is…